Welcome to Thollon
This website has the objective of gathering and sharing information for English speaking visitors to Thollon les Memises. To help visitors, apartment and chalet owners, and those renting properties. It aims to give a wider view than other web sites. Information that a visitor for a week or two may require. Not just for Thollon Les Memises but also the area that can by visited in a days drive.
Thollon.org has been updated, new format but same information news and updates.
We now welcome donations for advertising which will help towards the cost of running Thollon.org Donate, Advertise.

Historic winter web cam picture below.

There is a new web cam giving views from the "Top" fantastic views
Historic Webcam 19th December 2019

We now have the use of a new web cam from the the Gondola in Thollon.
Les Lanches web cam Many thanks to Andy .
Check out Facebook Telecabine Thollon for regular updates and lift opening.

25th May 2020 Telecabine Opens.
Good news!The gondola-les-Mémises opens from Saturday, May 30 to Wednesday, June 3 from 9 am to 17 pm for the Pentecost weekend.
Then on Wednesdays, Saturdays and Sundays in June at the same time. Wearing mask and social distance. Come with your masks.
Updates and details see link above.
See notice boards for special offers of lunch and lift combined. Also offers of discounted lift passes and rates for the new ski season when purchased early at thollonlesmemises.com Resort/Hiver New for winter 2019/20 combined pass with options, Thollon Bernex and Abondance. When the resort can only open limited runs, a reduced rate is sometimes applied.
There is now a site showing what runs are open. Plan Thollon Alpin.
Check out the Facebook Telecabine and Facebook UCAT for latest and further information.
New website opened November 2019 UCAT Thollon. Congratulations to the association of traders for this new initiative. Good links to the traders and on The Evian page with link to Bus Timetables for the Evian / Thollon shuttle.

14th March 2020. Really sad but understandable news.
The station, bars and restaurants are closed.
Whats new is now highlighted for regular visitors to Thollon.org
May 2020 The demolition of the Restaurant is well underway.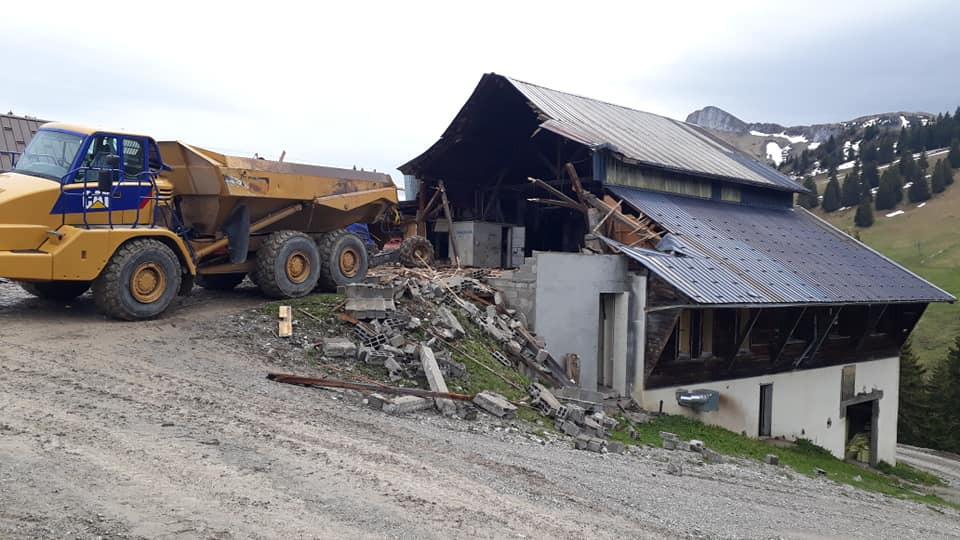 See this great video of the work. Demolition Many thanks to MB and Joe.
March/April 2020 With Thollon in lockdown one of our own has written an exellent blog to give us a feel of what its like to be in Thollon at this time.
The blog now has its own page. Letter from Thollon. This is an excellent read and a wonderful insight in to Thollon at this time.
We look forward to more reports. The latest blog is below. This and earlier blogs are on the Letter from Thollon page.
24th May 2020
Thollon Tripper Nestled in the foothills of the Alps, Thollon is ideally placed for exploring the romantic shores of Lake Geneva and the rugged mountains ranges that surround it. Now that lockdown in France has eased we can travel anywhere within the Haute Savoie and up to 100 km outside. The lakeside roads are busy and the little wooden kiosks that sell refreshments have profited from the great weather and the holiday atmosphere of this post lockdown week.
Once you venture away from the lakeside however, it's a different story. The mountain roads are empty, villages are deserted, cafes, bars and restaurants still closed. Loaded with a selection of disposable masks and a bucket of hand sanitizer we decided to go exploring and took our little rentalcar into the mountains for the day.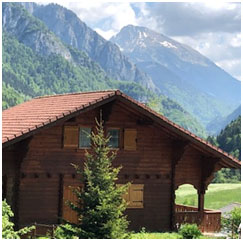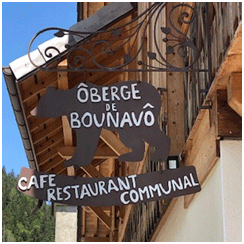 Taking the 'Grande Routedes Alpes' we headed through spectacular mountain scenery to Les Gets for a visit to the intriguing Museum of Mechanical Music. Small museums and landscape gardens were amongst the first businesses allowed to reopen in France, most are run by volunteers and have struggled to survive without visitor income. Apart from a few inquisitive farm animals, we were the only ones out and about and so it was surprising to find this little gem of a museum open. Masks on, hands firmly in pockets, we headed in to be warmly greeted by 3 people in full PPE. We were the only people there. Requested not to touch anything we navigated our way to the upper floors.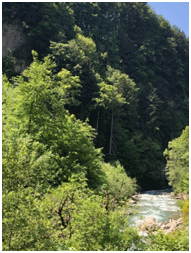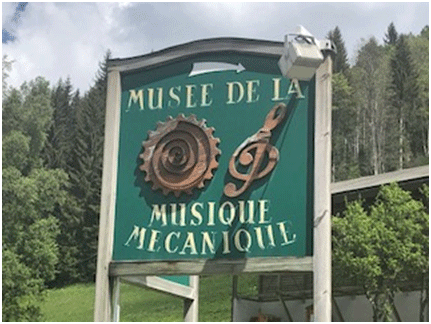 I have to say, I really wasn't expecting much, but was I in for a surprise! This ultra-modern museum housed in one of the oldest buildings in Les Gets is home to a collection of over 800 musical marvels and is the largest collection in Europe. Every form of honky-tonk piano, ghost accordion and phantom violin is represented in this collection and all in full working order.
Ever wondered who the mother of the Wurlitzer was? Probably not, but in any event she's here, in the form of giant circular metal discs pierced at strategic points, playing lively polkas and whirling waltzes to turn of the century pleasure seekers. From jazz to alpine melodies, from tiny delicate musical boxes to giant, colourful fairground organs they're all here and the best thing is….. you get to hear them all.
Why did the organ grinder always have a monkey? No, it's not the start of a really bad joke, or a smart alec way of referring to your boss at work, it's because people were not allowed to hand coins directly to pedlars or street musicians in France, but you could hand the coins to the monkey, who, if he valued his nuts, would obviously pass the coins on to his owner!
My favourite? It has to be the huge Belgian dancehall extravaganza. Built in the 1950s in Antwerp, painted in ice-cream colours with neon lighting, it's fronted by two Belgian saxophones, alongside mechanical accordions, trumpets, drums and percussion. It's a Saturday night at the 'balpopulaire' kind of beast that could certainly tell a story or two.
Sadly only half of the museum is open to visitors at the moment. We weren't able to see the collection of the earliest gramophones or visit the 'Salle des Machines Parlantes' with the first reproduction of the human voice. I would also have loved to see the automatons from the shop windows of the Faubourg St Honoré in Paris with their fairy story and Jules Verne themes. Still, that's a good reason for a second visit sometime in the future!
Current opening times: Daily from 14:30 – 18:30 (closed on Tuesdays) Entrance fee: Adult 9 Euros, Child 5 Euros (only building A open at present)
Full details can be found at www.http://www.musicmecalesgets.org
............................................................................................................................................................................................................
Thollon is a family resort and many visitors return every year to enjoy the great welcome.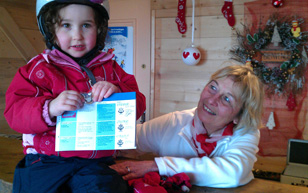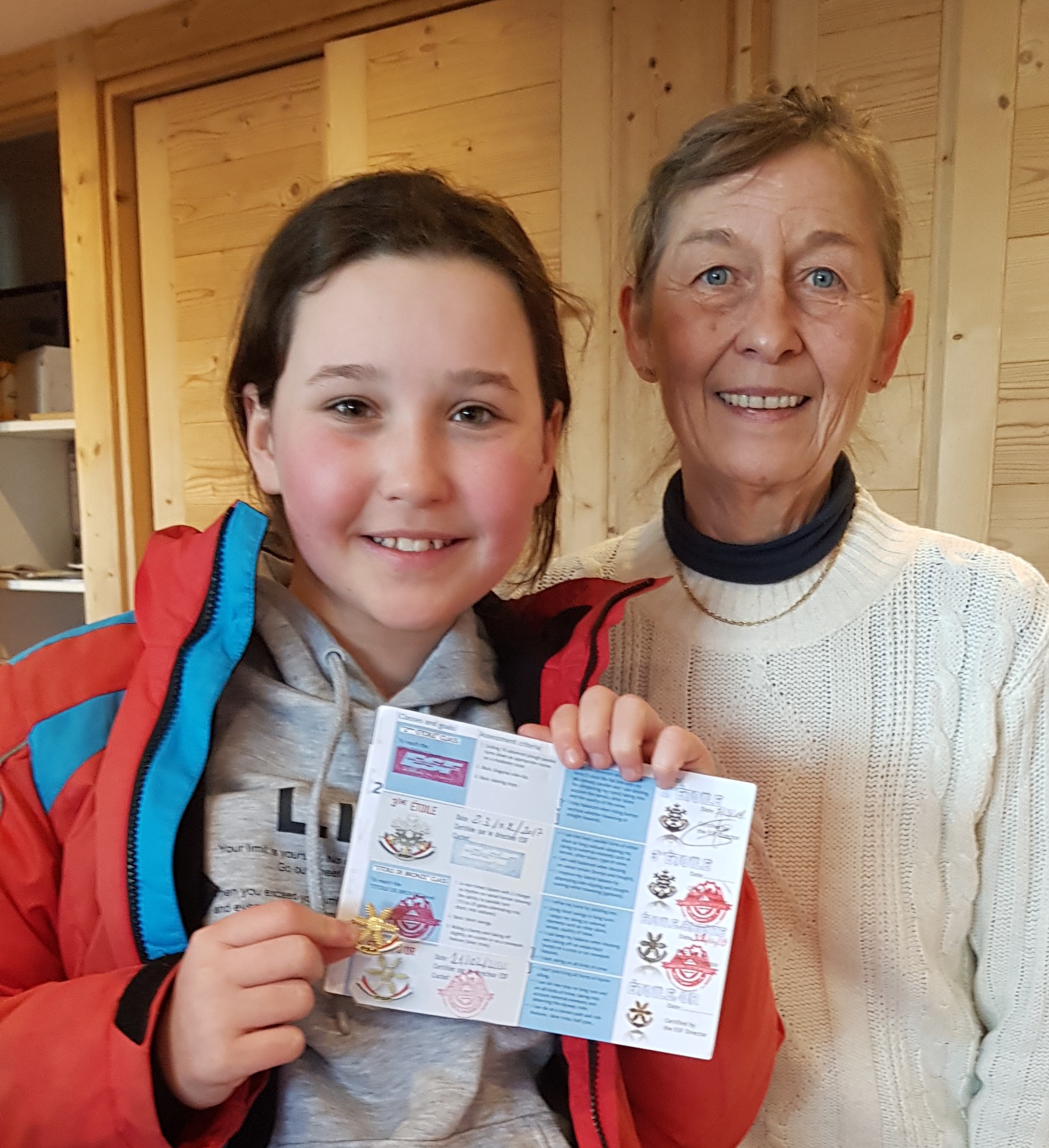 Christine (ESF Thollon Secretary)
presents a first badge to Cora age 4 and then Gold Award age 12 in February 2020.
Wednesdays February Party 7pm in the Polyvante hosted by ESF, Ski Club, Fondue and music Mickael and accordion.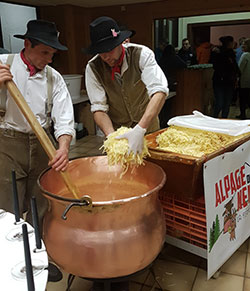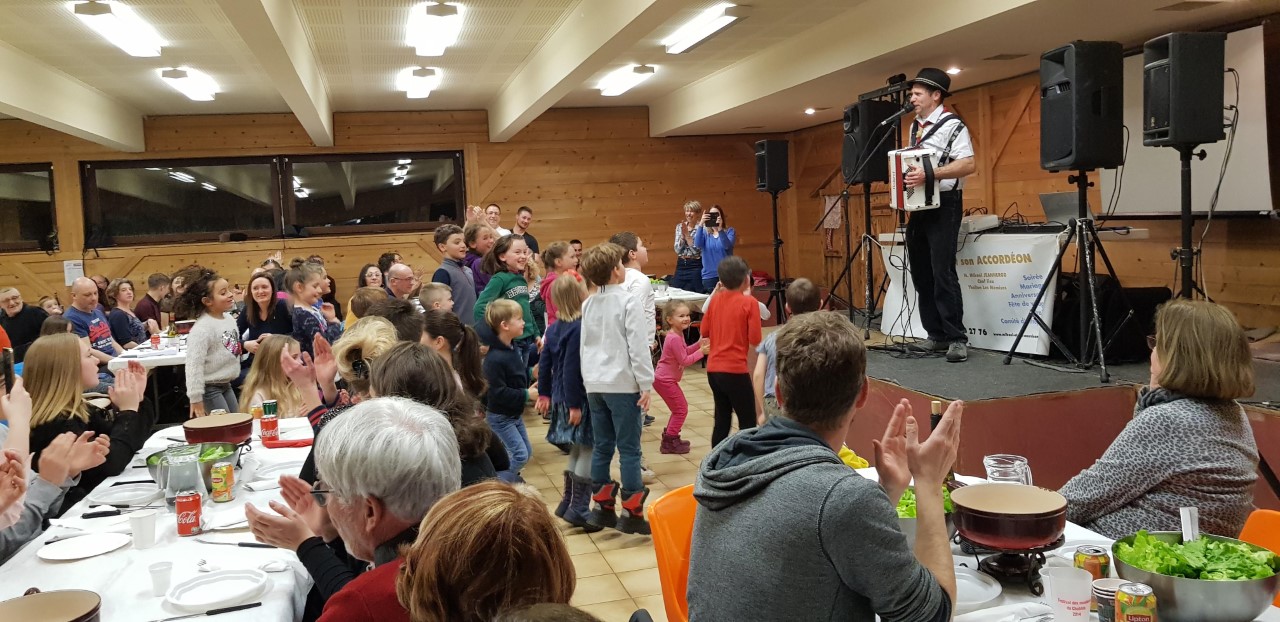 "Horseing around" Thursday 20th February 2020.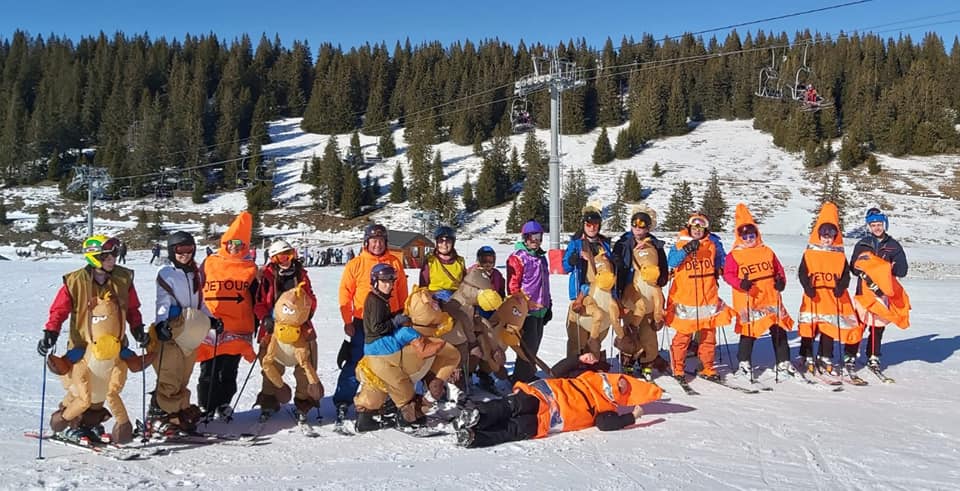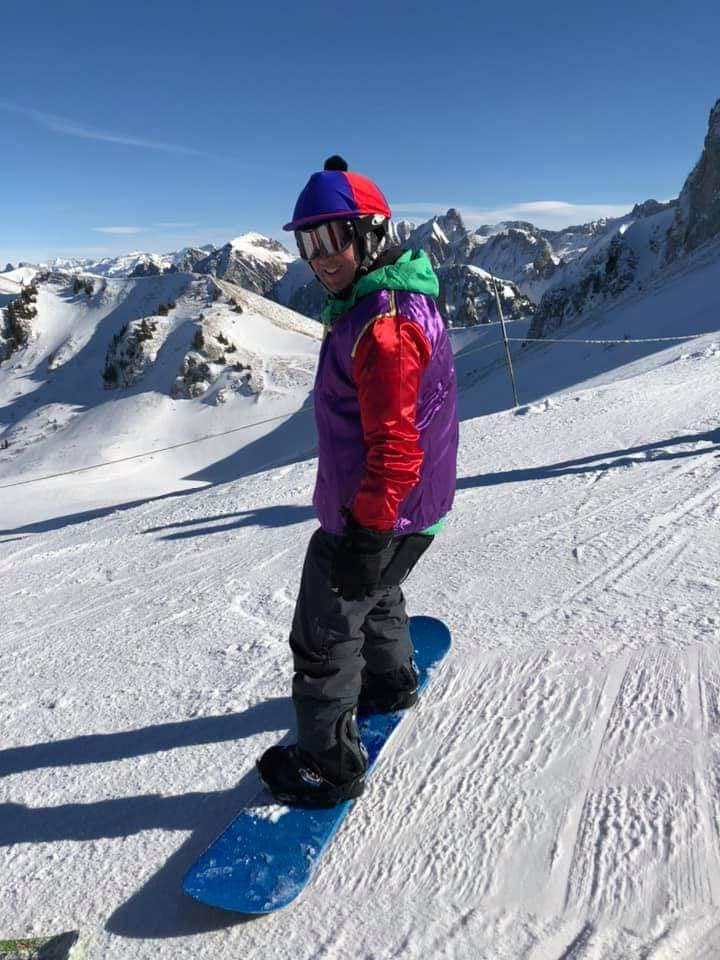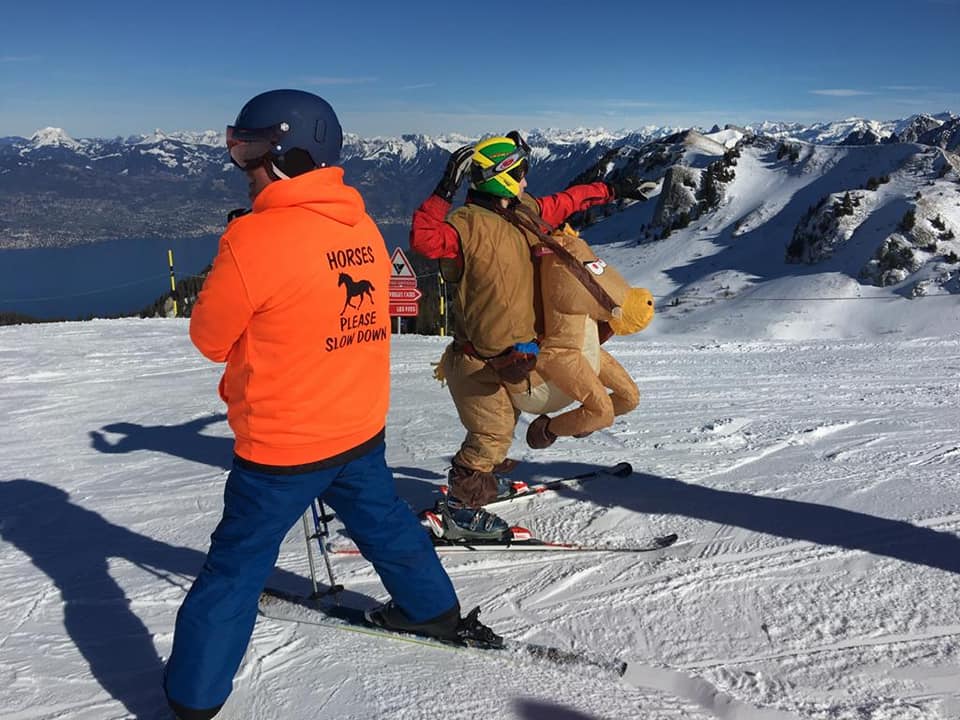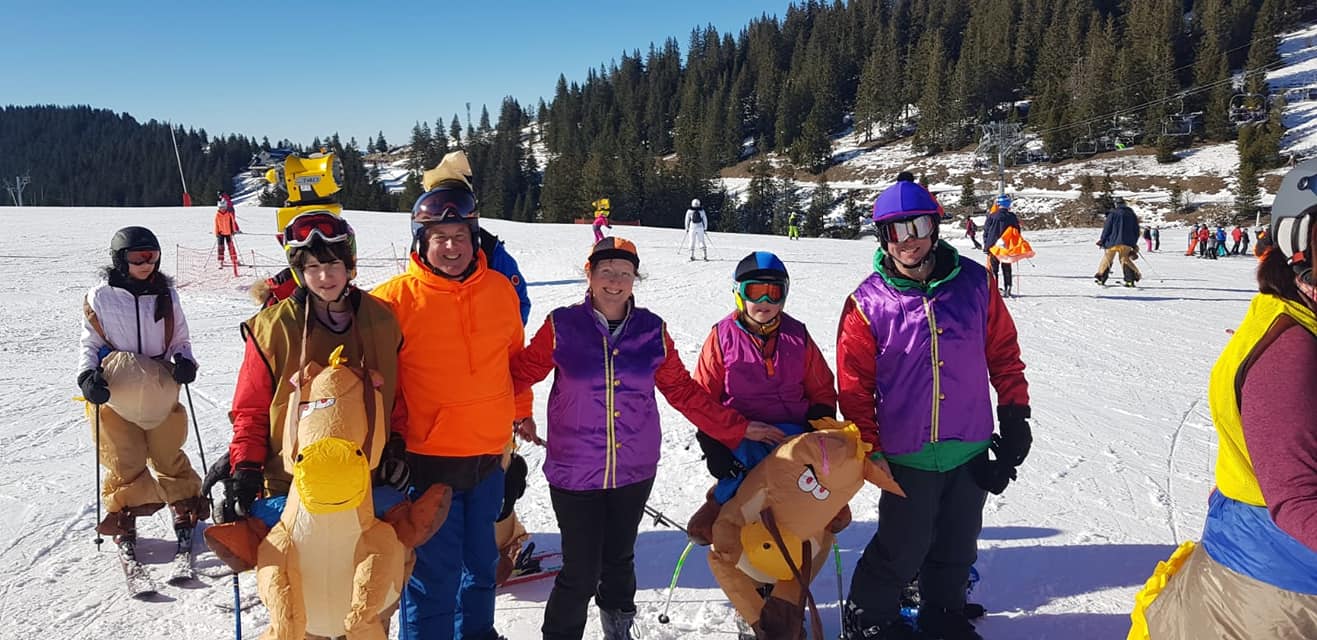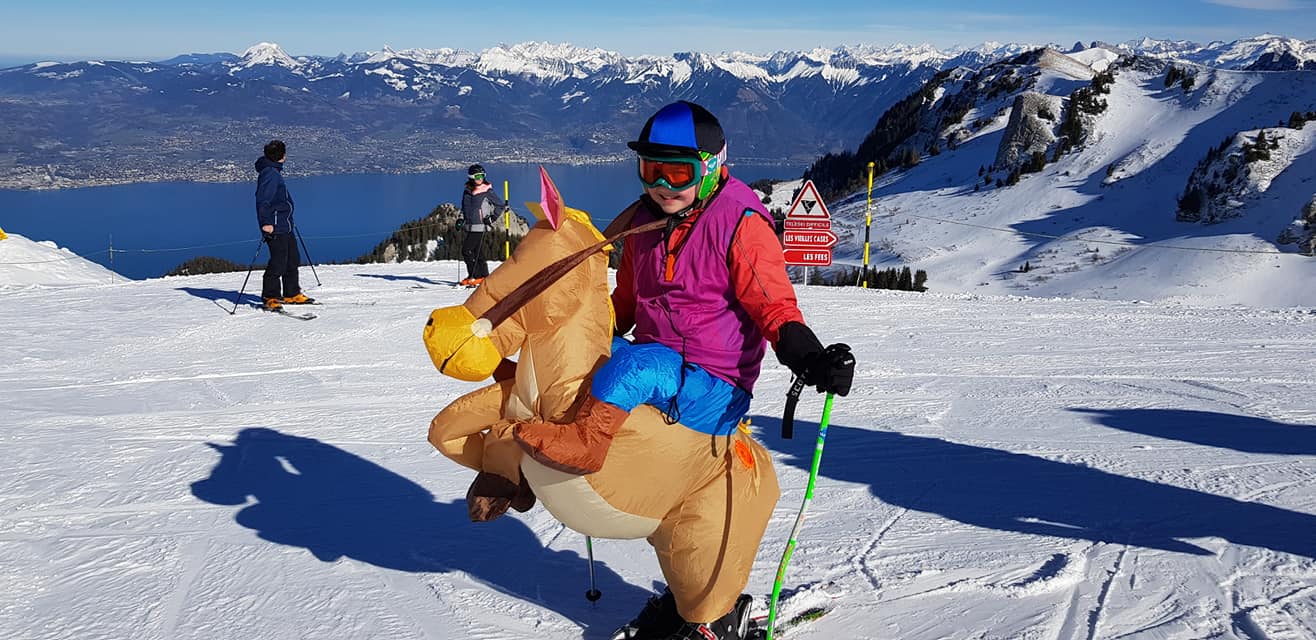 Cinema - The 2020 English Language film season (VOST - Version Original French Subtitles) continues every Thursday until the end of March. After a short break, it will resume again during the main summer holiday season. Please add your name and email address to the list at the cinema cash desk if you would like weekly updates on the films being shown
Thollon Snow Park
The Thollon Snowpark association organises events on the theme of freestyle skiing/ snowboarding. The half pipe, landing balloon and water jump add some fun to Thollon.
Reggae Fever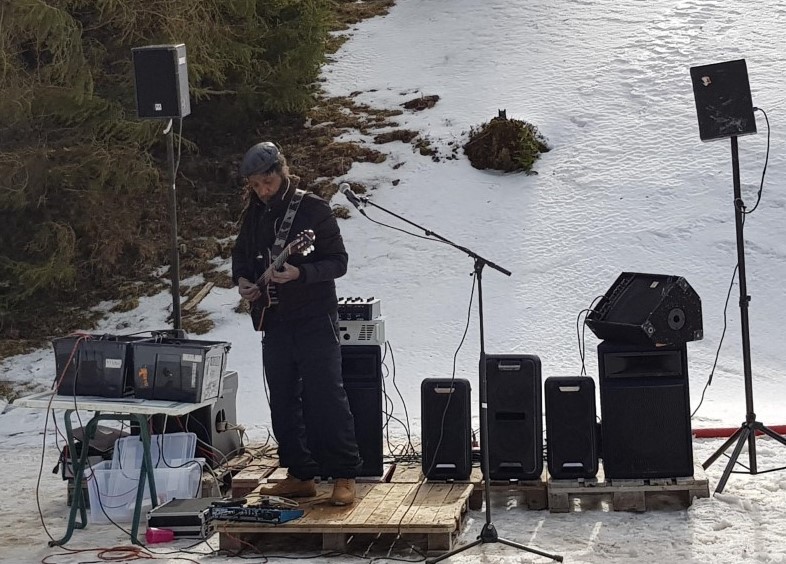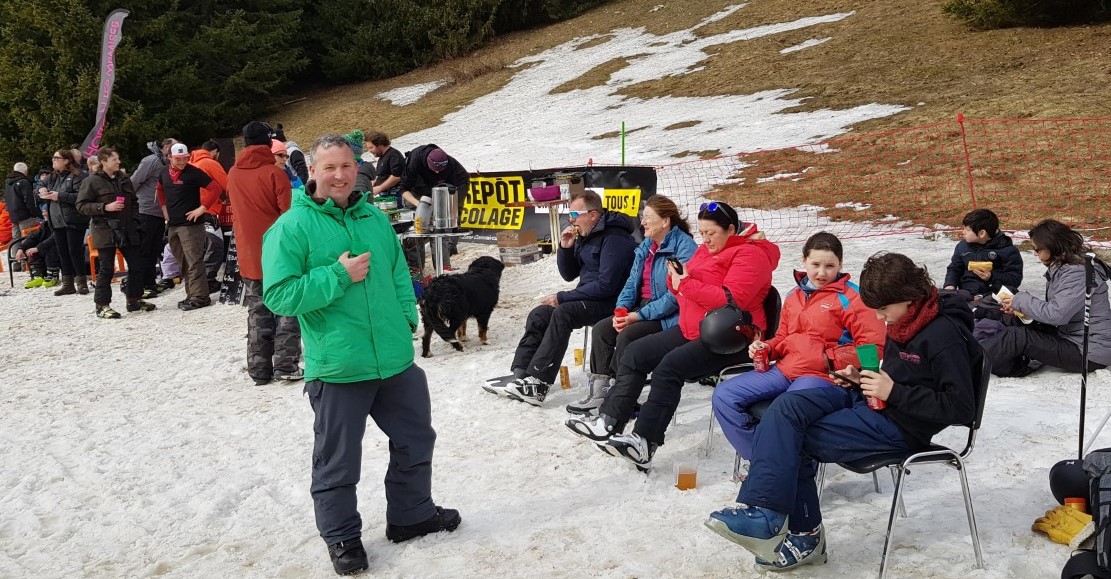 One of our own has a sneaky play.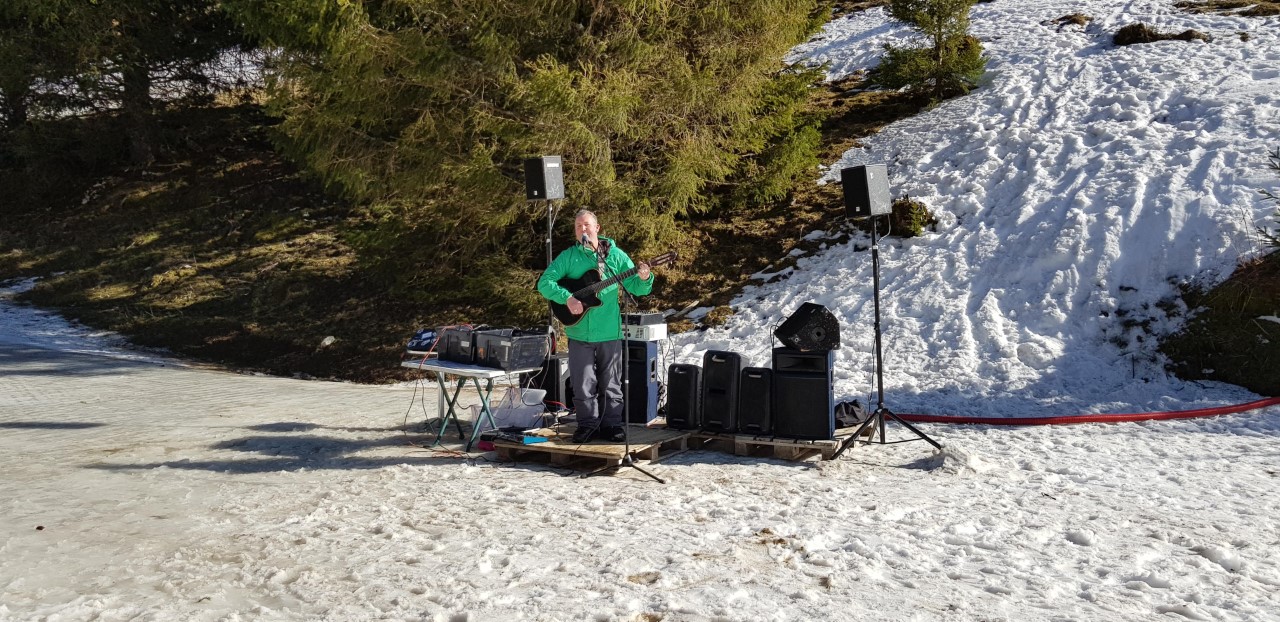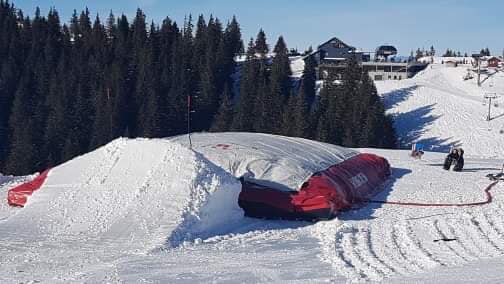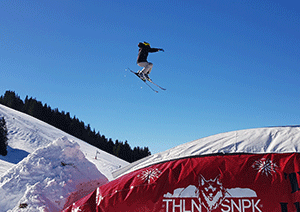 Below January 2020 BBQ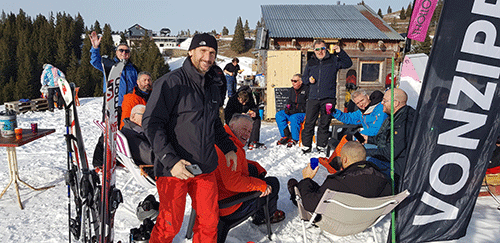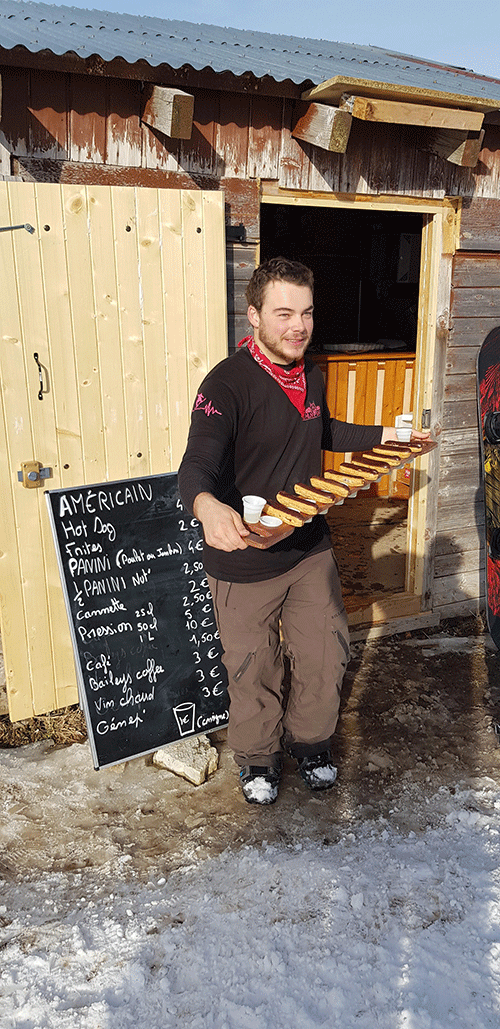 Carnaval in Evian see Evian page for photos from previous years.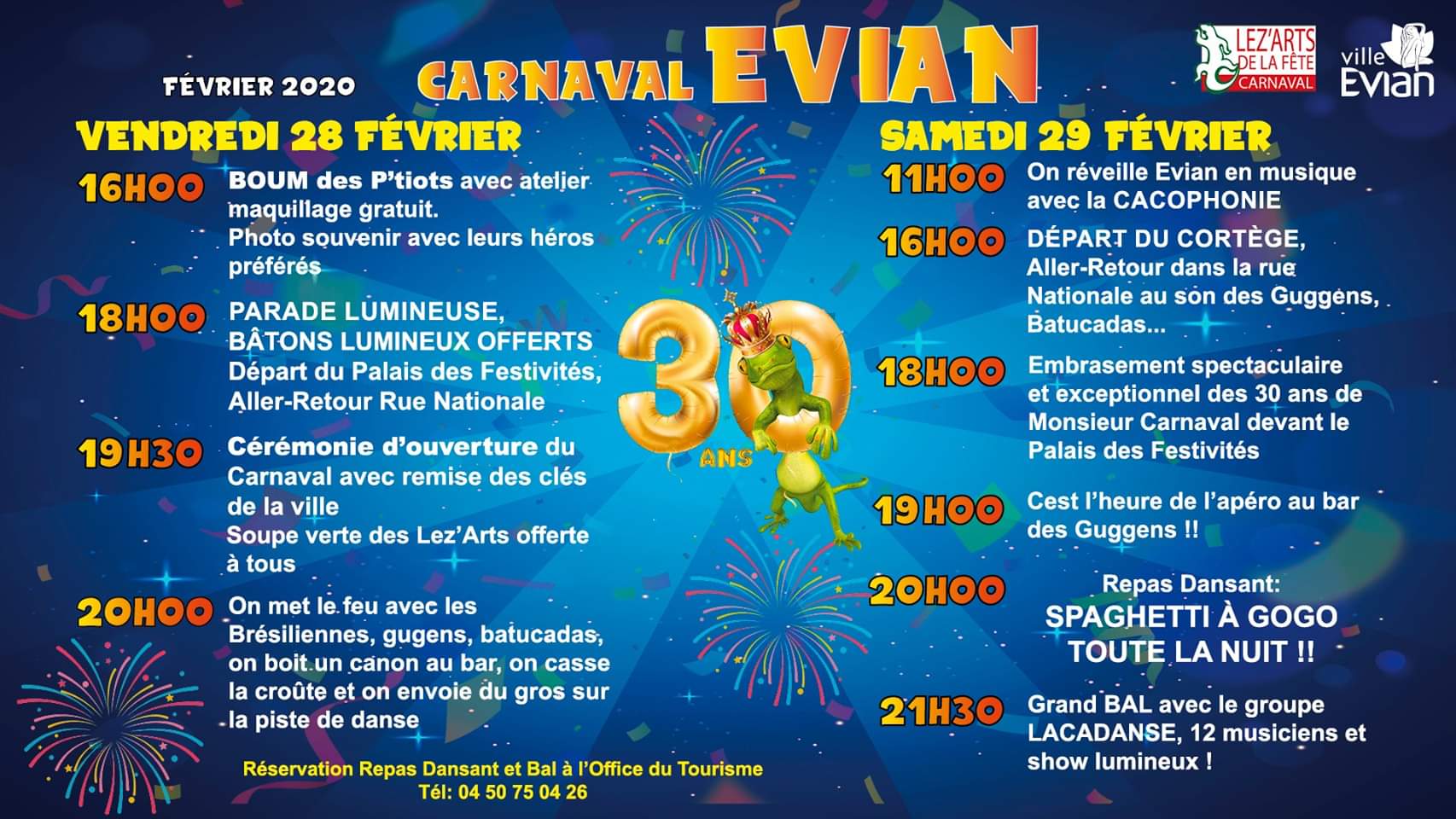 Annual Mayors report 19/01/2020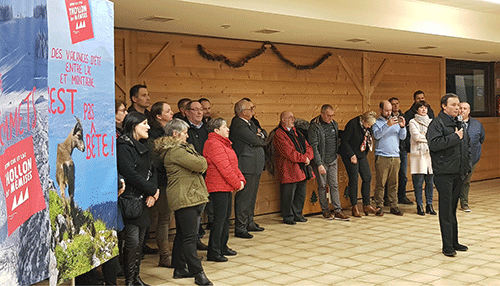 This is his last report before the local elections of 15/3/2020. Therefore he cannot speak about future projects as he may not be re-elected. (Apparently there is someone standing against him).
Thollon now has 817 residents, 355 permanently occupied homes and 1524 second residences. A Head of Station was appointed a year ago, Sebastian, and has been very successful. This year certain 'works' have been undertaken. including; renovation of the church, the water network has been improved, and of course the new snow canons.
The good news is all the preparatory work, building permits , finances, tenders etc,for the restaurant are now completed and work on the new restaurant (and ancillary buildings) will start in April this will entail the use of helicopters at first until the Lanches becomes usable for lorries. The money for the restaurant has been half financed by the state, the region and the dept. The village will finance the rest there will be no increase in taxes to do this. There will be a new skiing 'Jardin d'infants' on the other side of the restaurant from the present one this will have a covered 'conveyor belt'.
The Xmas, New Year, early Jan period has been the most successful ever, (since the TF1 article the phone at the tourist office hasn't t stopped ringing.) There was then a series of speeches by elected members from the Dept, the region and a Haute Savoie Senator Then free drinks and cake. Thanks to FB for attending and giving this report.
Driving in Geneva. Introduction of a new window sticker to categorise cars, similar to the Crit'Air (we believe also accepted) introduced from 15th January 2020. These will be used to restrict entry to Geneva for those older cars with the worst emissions. See Swissinfo.Ch Banning Dirty Cars Get a sticker! Geneva continues the anti polution measures reported on the WRS Radio website .....its being implemented.
LEMAN Express
Care! There are strikes in France including rail services. This is impacting on the LEMAN Service.
Update 29/01/2020 on the WRS Radio website The strike appears to have finished but problems still remain a task force is set up to solve the issues of cancellations.
If you know or have used the service please share using the Contact page....Mixed reports, some success, some having to use the bus link when French drivers strike. When it works its great, one report late January 2020: It left Evian at 6.48, arrived Cornavin (Geneva main station) changed then arrived at the airport at 8.10. Report 10th February: Just tried out the new train service . Perfect journey, on time. However allow extra time if you are buying tickets at Evian and Cornavin. Ticket machine at Evian does not appear to accept UK registered credit cards and the ticket office closes for lunch. Also a 15 minute wait for a ticket at Cornavin. At the Airport it may be quicker? Report 18th February. Excellent service worked well. Thanks for updates and keep sending.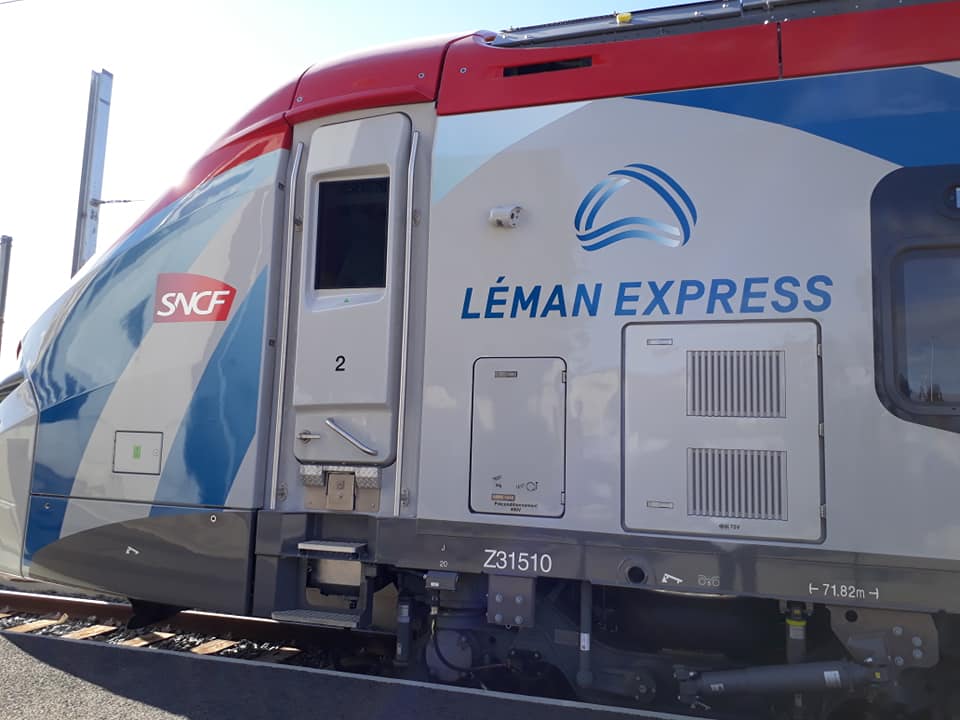 Great news. A new rail service from Geneva airport to Evian starts in December 2019. Thollon.org received the following information from Léman Express.
Since last Monday you will find our website www.lemanexpress.ch translated into English. There is plenty of documentation you could use to get the information you need.
Under the section "Plan Your journey" à "Timetables and Travel Info" you will find PDF time tables of the Léman Express Lines, feel free to download them https://www.lemanexpress.ch/en/downloads/timetables.
Unfortunately due to the complexity of the pricing it is not possible to have a fixed price for the pricing, that is why we don't have a pricing list. However, on lemanpass.com (only in French), you can find out how much your ticket and subscription will cost you, specific to a trip (https://lemanpass.com/tarifs/). · Finally, the start of the Léman Express is on the 15th December 2019, not on the 20th December. We hope to see you onboard our trains and wish you a nice day.
Do use our contact page to tell thollon.org of your experience. Thanks.
New snow cannon installation There are 65 or is it 74? new snow cannons. They will cover all the slopes which are visible from the restaurant. There does not appear to be any plans at the moment to do the "back run" the Via Casse. So the resort should be well and truly ready for this year's winter season, 2019/2020. Pictures below summer 2019 lots of activity in the car park and on the slopes. Lorries and a helicopter has been moving the materials.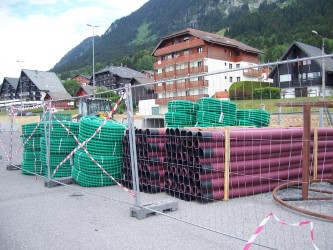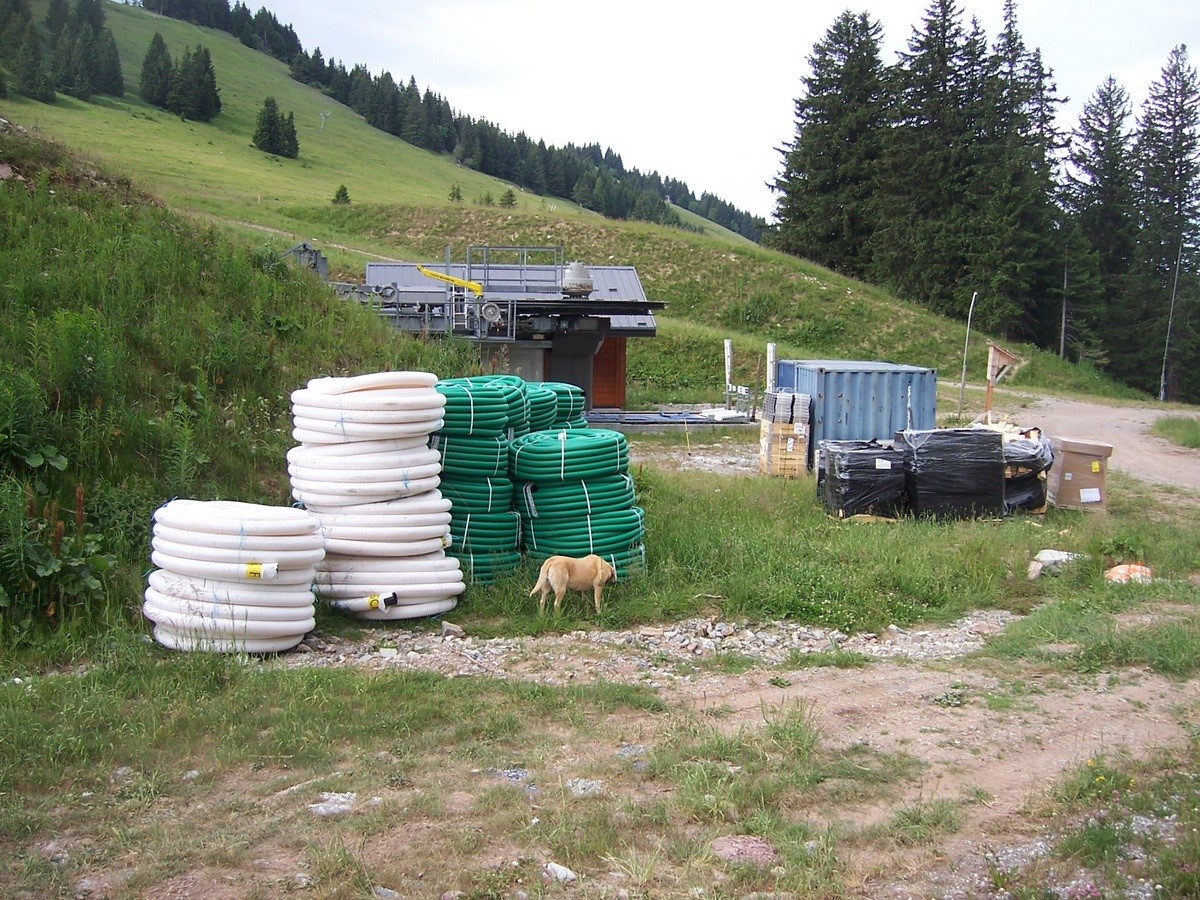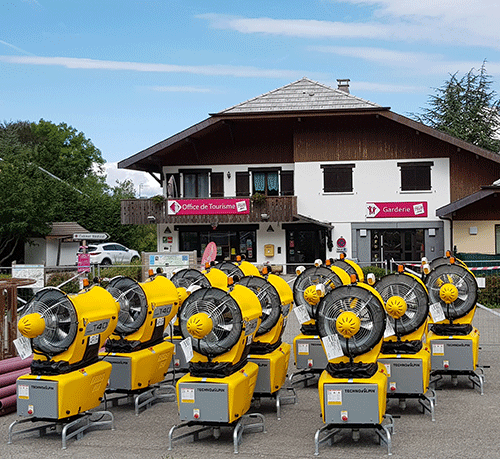 Summer 2019. A review
Cinema. The weekly Summer English Film season. Every Thursday our Cinema had English films these were well attended and there was a great selection of films such as Rocketman and Bohemian Rhapsody. There will be a winter season starting in late December 2019.
Thanks to Ron and Sylvain for continuing to provide us with English language films.
Music and fun. Bars, fete, BBQ
Bar Ourson is worthy of an extra mention for the many fun evenings some with live music. Corrine has been popular with the British clientele and the annual get together of British musicians with the new band Jerry and his Pacemaker was in fine form. The outside area in front of the bar making for a great area to relax party and listen to music. Also new for 2019 was Arnaud offering excellent Tapas in his bar area in Le XV making for a relaxed drink and food sitting on the sofa's. The bars Saint Nicolas and Choumas continued to be popular and offered good hospitality. Many of us also braved the walk to visit the Hotels Bon Sejour and Bellevue, whose restaurants offered excellent fare.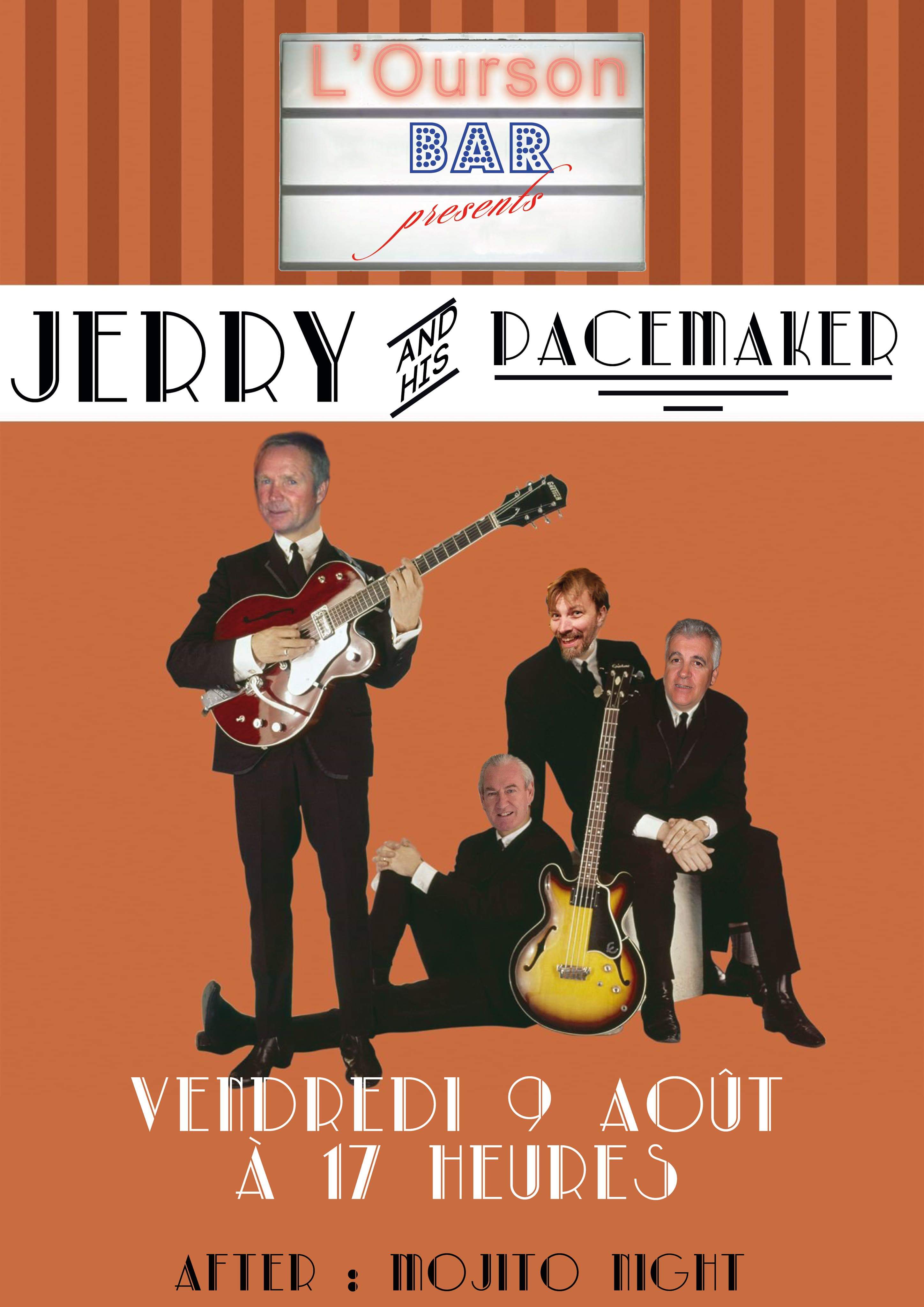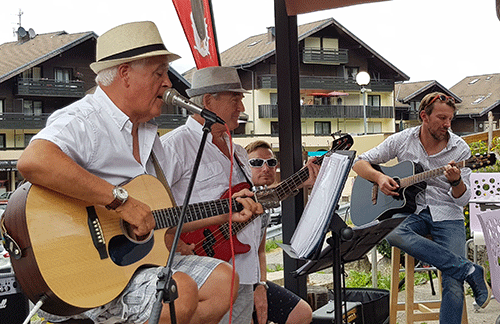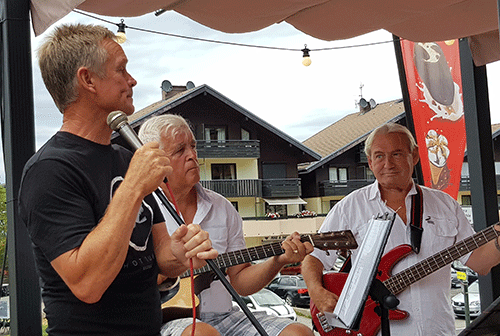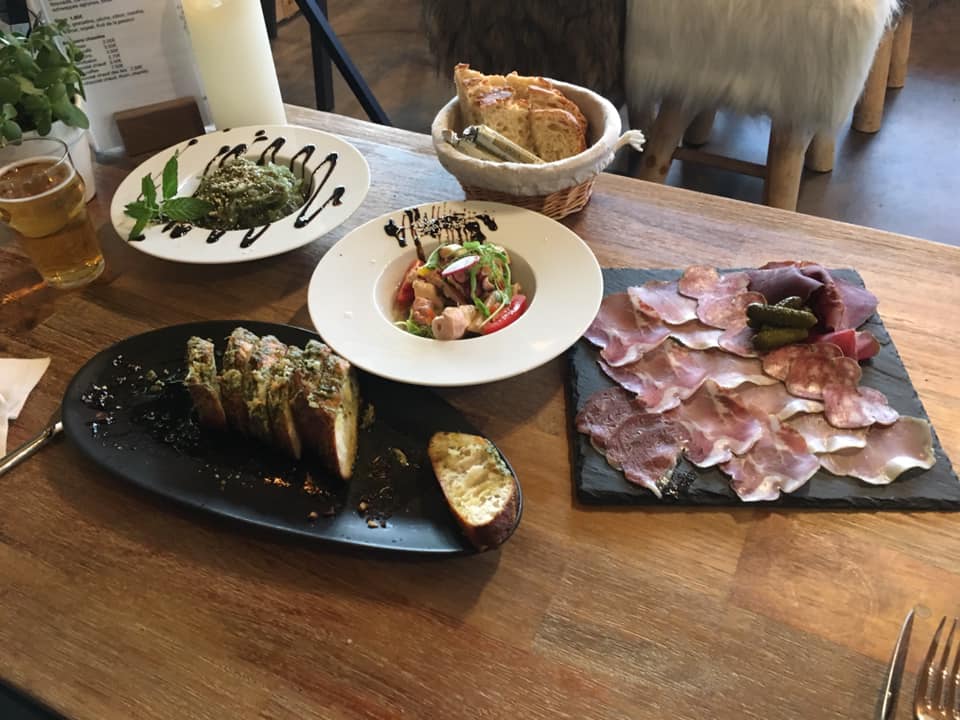 The annual fete was held in August, two nights of party which was well supported by the Thollon.org crowd. There were also music events held outside the Tourist Office, by the car park.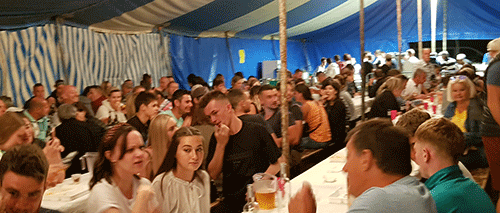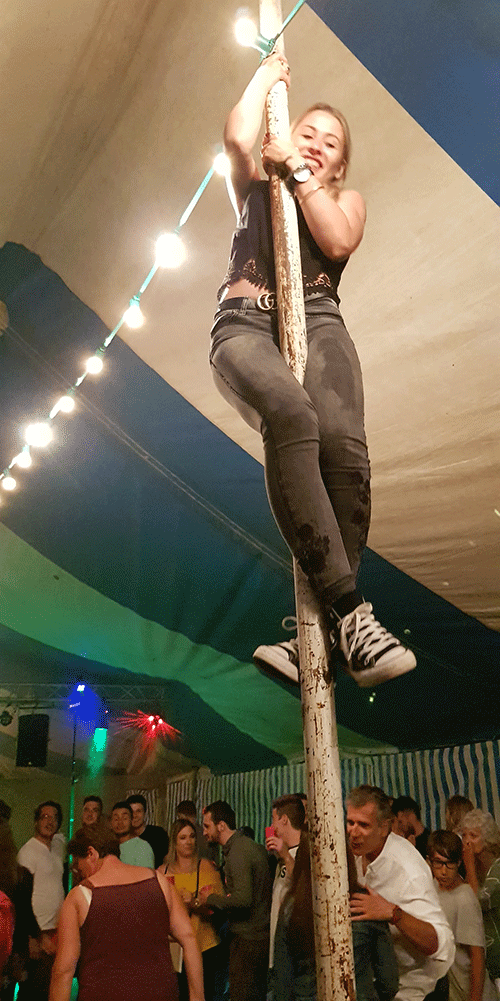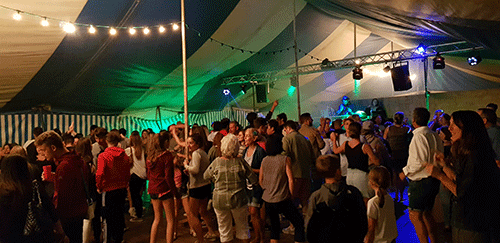 The site at the aerial Hucel which has a wonderful view over the lake was the venue for an inpromptu byo BBQ. A group of locals and Brits enjoyed food and wine as the sunset. The steep and dark climb down from the site was interesting.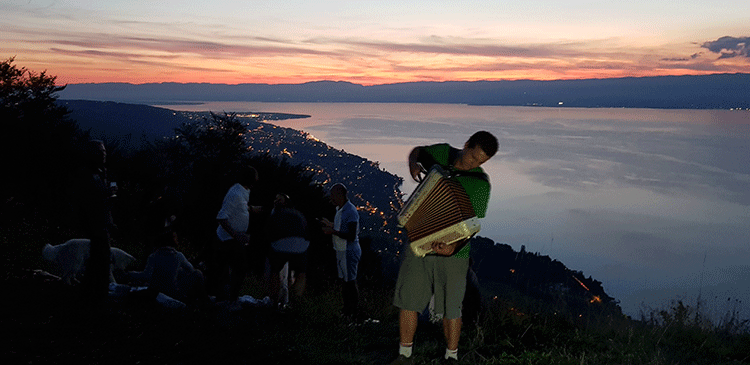 Basecamp Thollon fitness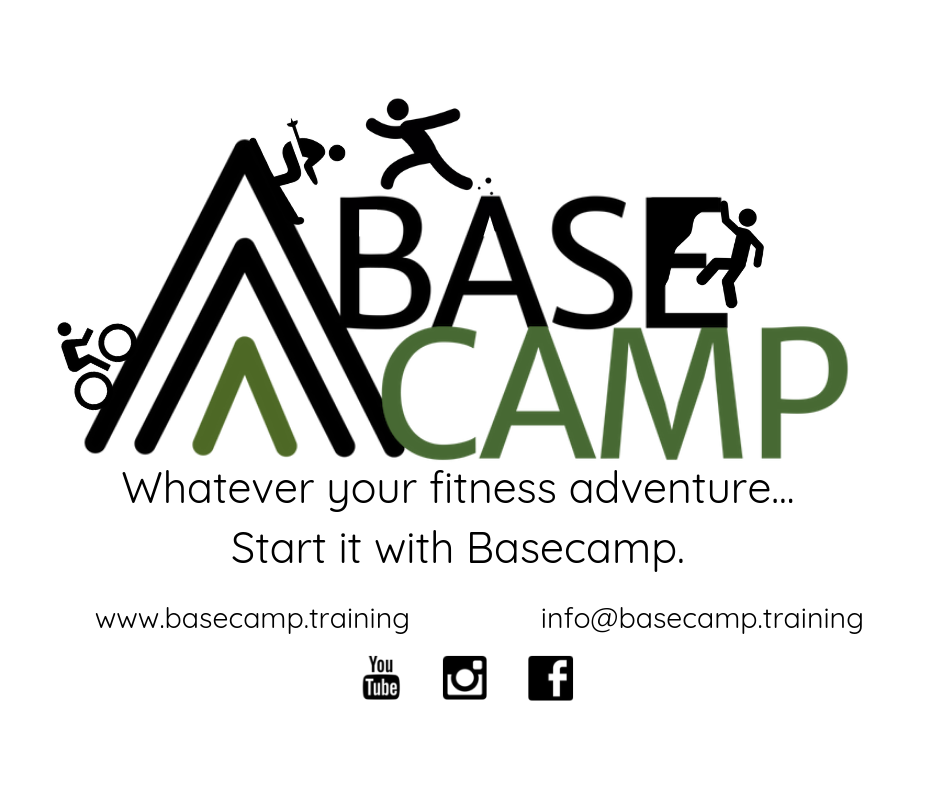 Joe Brady offered excellent well attended fitness training throughout the whole of August, held on the football pitch in Thollon
Priory Meillerie
A visit was organised to visit the Priory of the Meillerie www.meillerie-prieure.com. Many of us use the road and pass close by to this Priory. The visit was excellent for a number of reasons, the views are fantastic especially from the graveyard above. The history of the priory and its role in commanding the area and its links to Thollon were fascinating. The talk by Sidonie Bochaton (local archeologist, historian, and writer) was excellent as it gave a wider view and helped many of us understand the local history of the Haute Savoie. The web site is excellent and if you are considering a walk around is to be recommended to set the scene. Thanks to AS for organising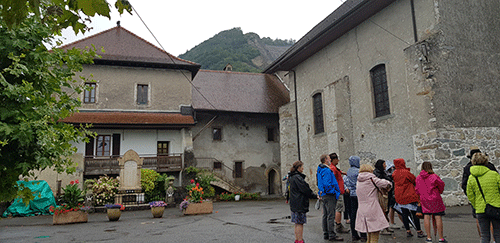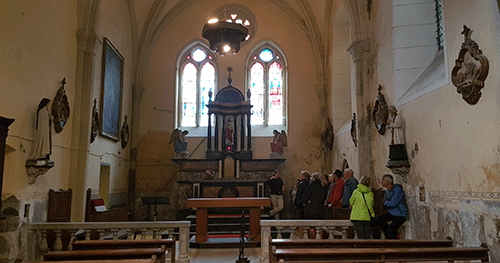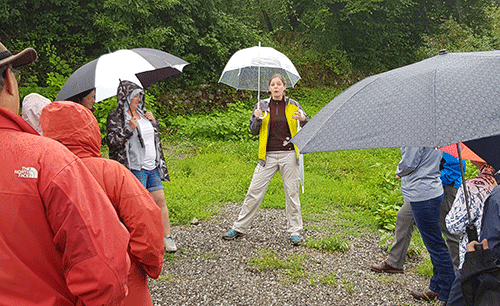 The Lake
Many of the Thollon group have boats on the lake and enjoyed a great summer of boating. The lake provided its usual mirror calm surface ideal for motor boats. The usual venues of Grand Rive "Nathalies" and new this year L'OXXY Beach providing refreshment.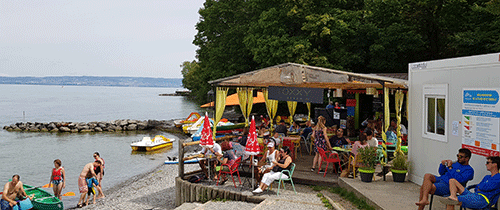 Annual Football Match
On Saturday 8th June at 3pm the annual football match was played on a lovely sunny day.
Result: England 8, France 7 yes we won!
As usual the band, ceremony and football of a standard only seen once a year. A great celebration.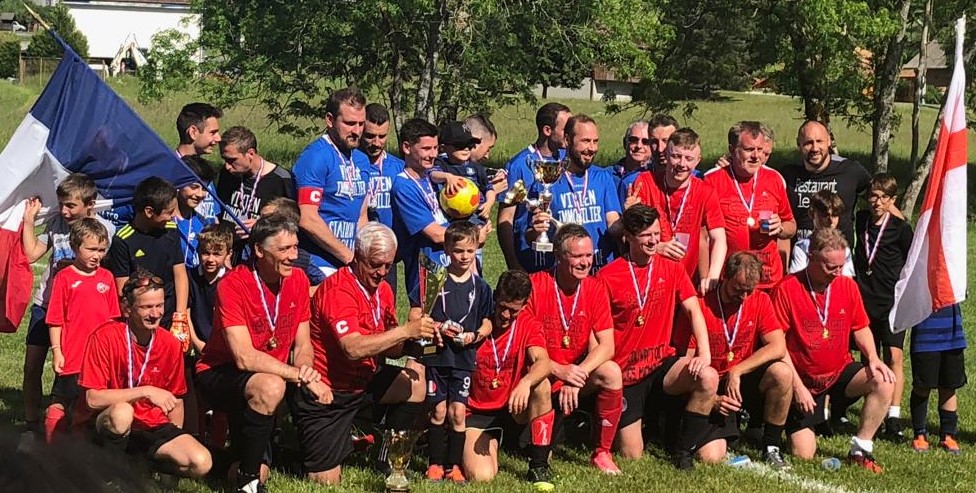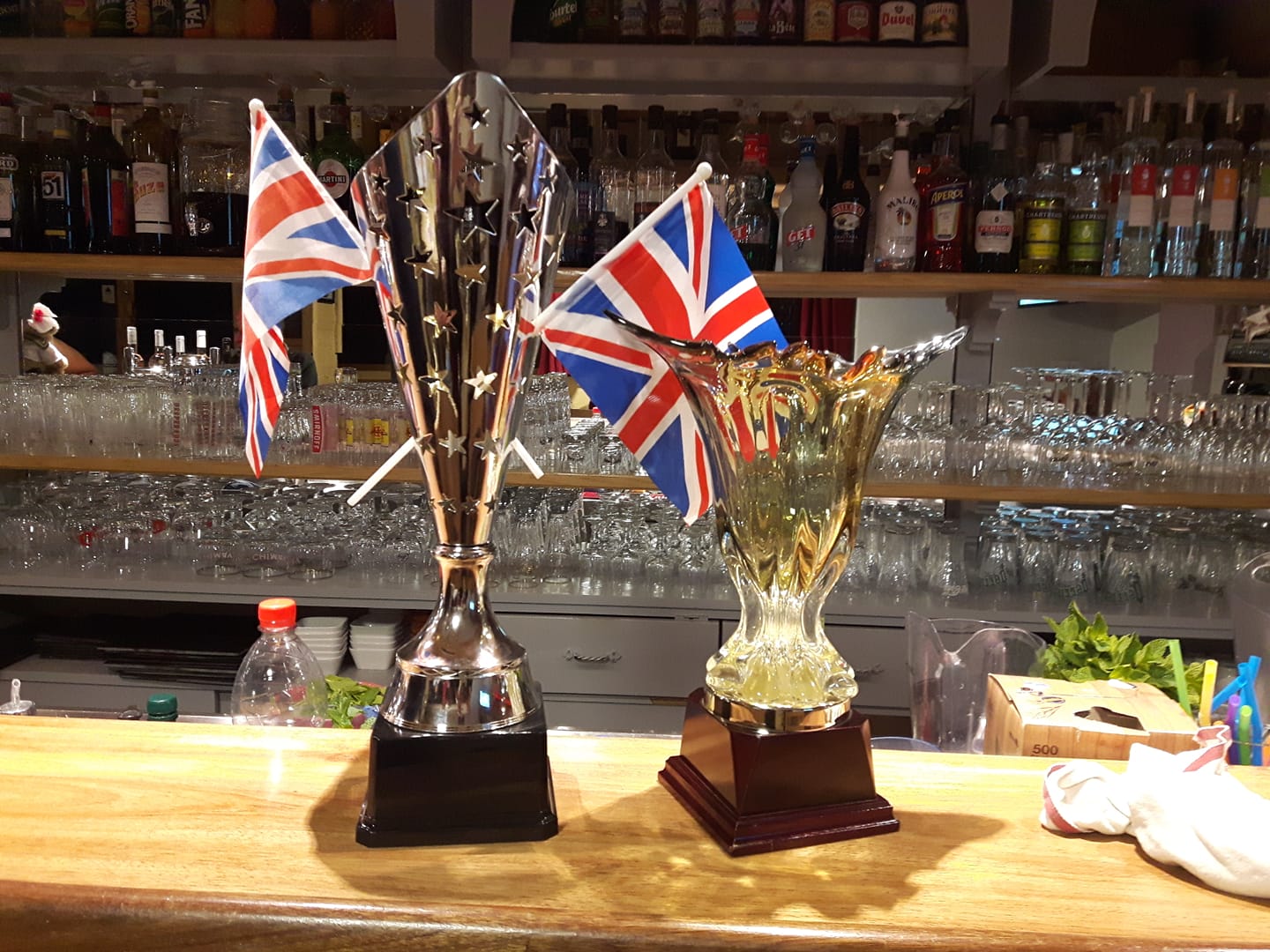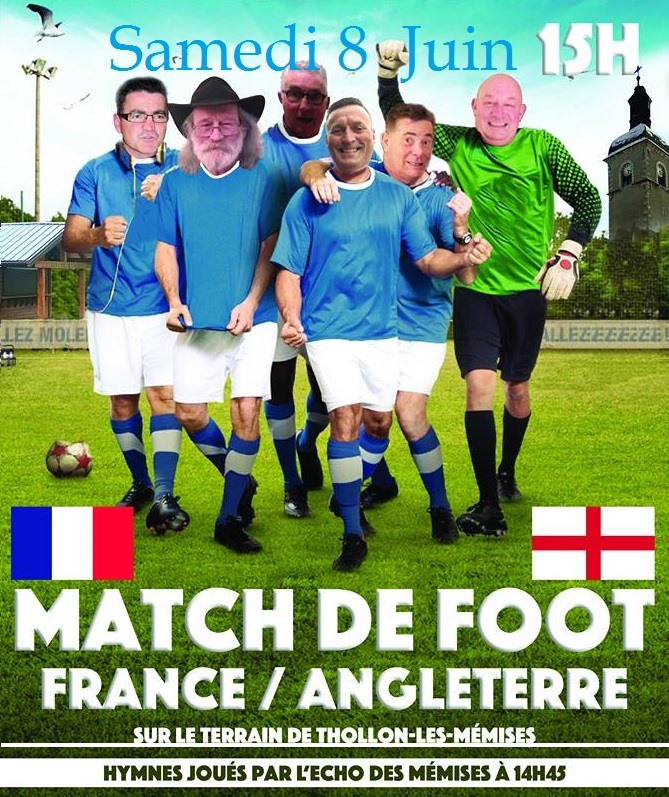 Pink Pub to Pegasus Bridge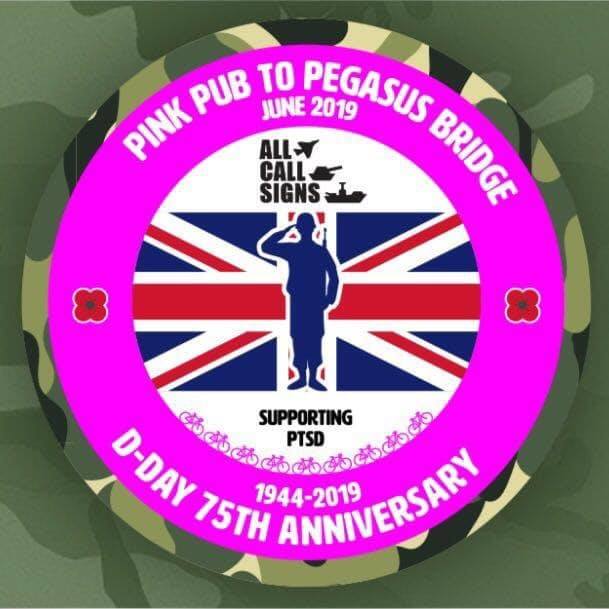 This site celebrates the link between many countries. We have a large British contingent. Several Bognor Regis members supported a great forces charity by cycling from Bognor Regis to Pegasus Bridge to celebrate D-Day leaving on Wednesday 5 May 2019. Have a look at the Facebook page. Pinkpub2PegasusBridge They have raised over £120,000....Great job guys.

They made it! Well done guys!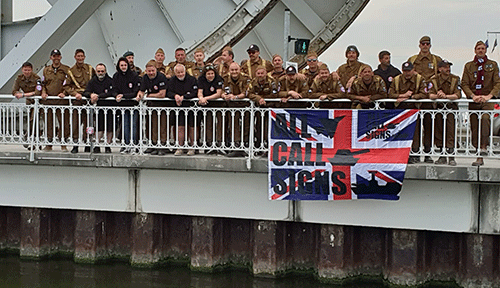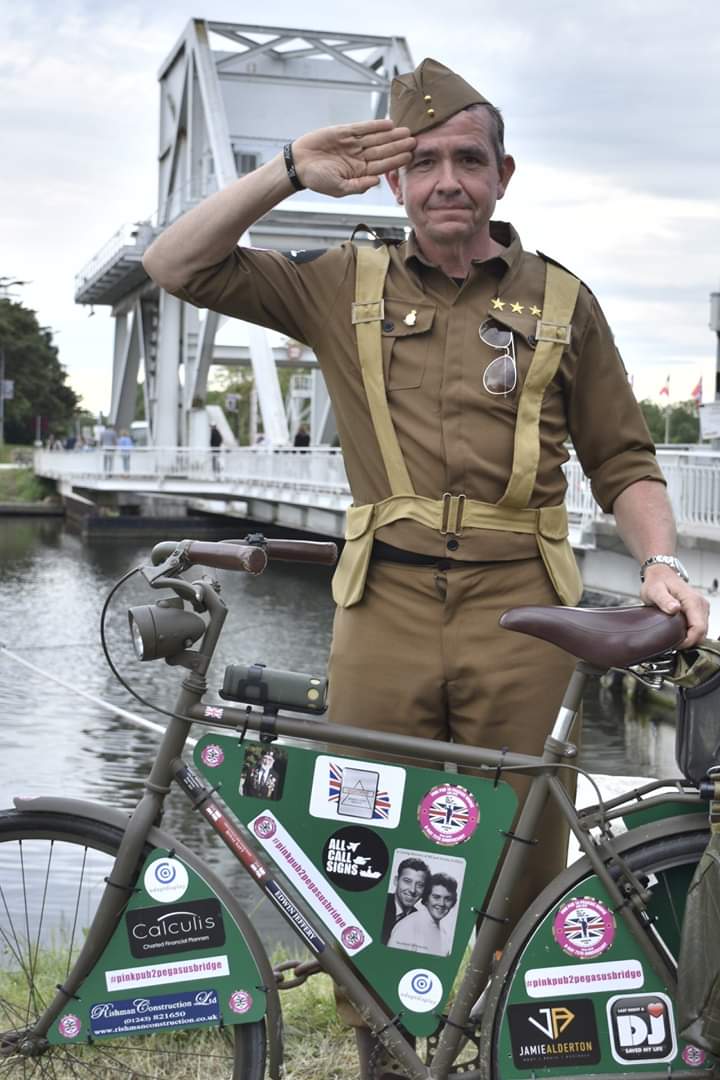 Bolton Celebration
Thollon friends stretch wide across the world. On the 11 May a group of around 30 Thollon friends came from various parts of Europe to visit Bolton to help celebrate 30 years in business for a Thollon regular. Much drinking and great hospitality from Dave and Deb's.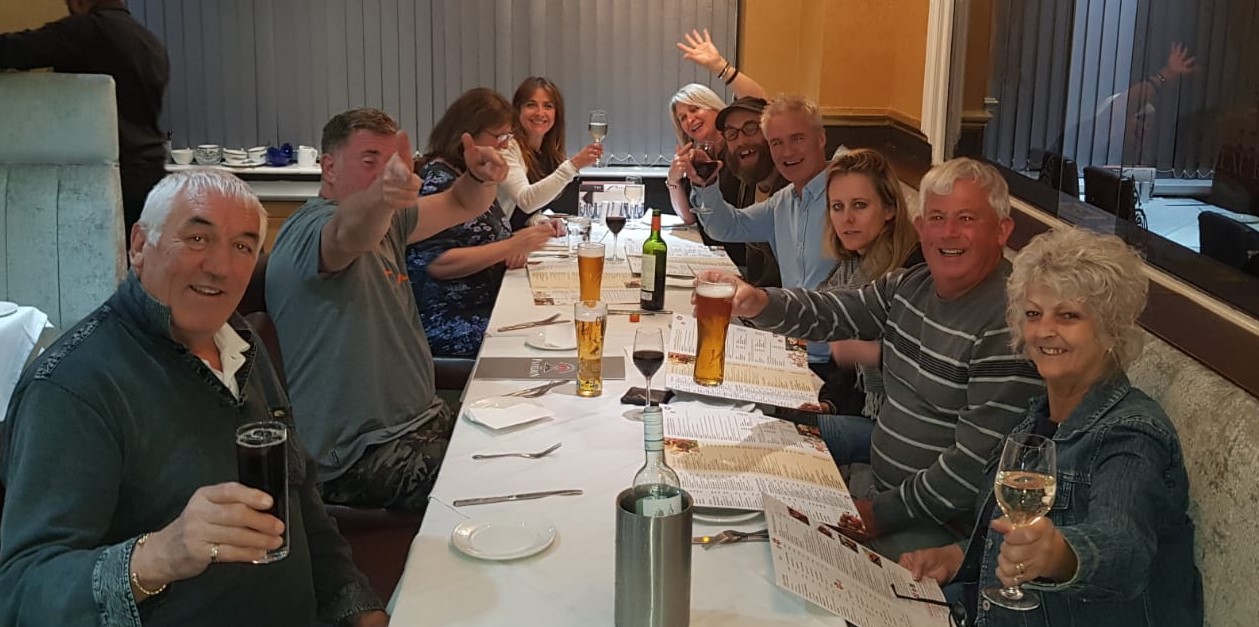 The Thollon official website thollonlesmemises.com has details of whats on.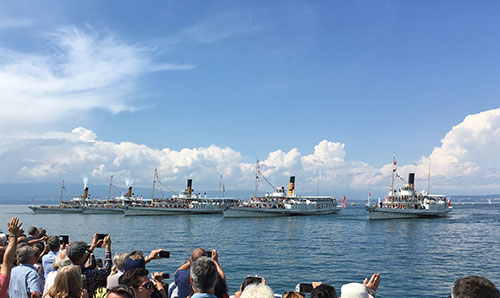 As we look forward to the new season lets remember the Winter 2018/19
The season closed with the UCAT Race and the water slide, and the British enthusiastically joining in the celebrations with this years theme of Peaky Blinders. Around 35 British visitors, and some Ex Pat residents joined in the fun.
Thollon.org entered a team of three generations photo below, 2 skiers and a snowboarder! A superb effort but no medals this year.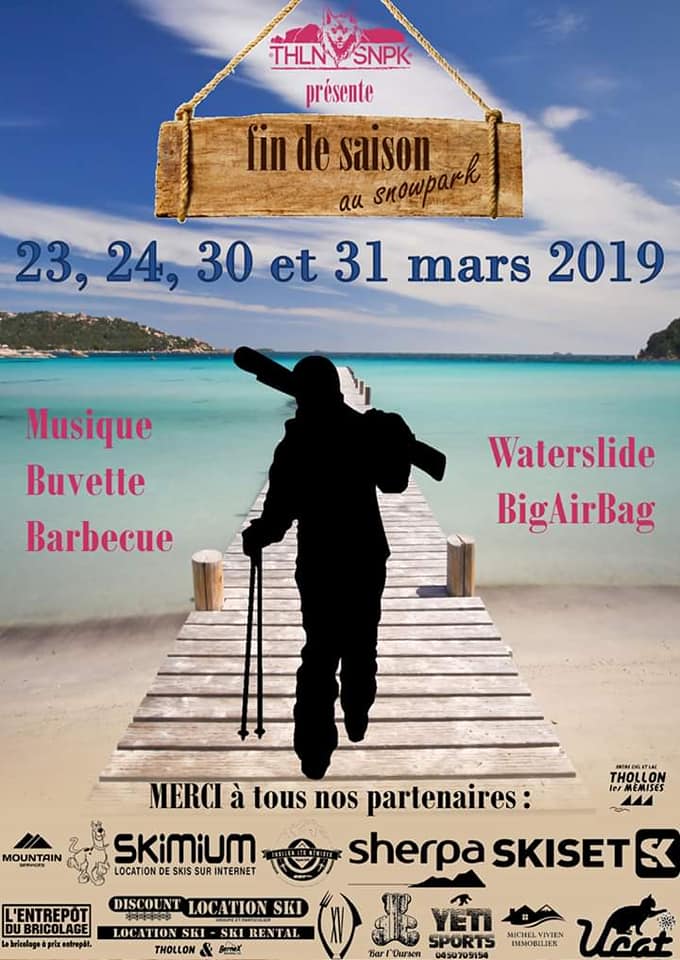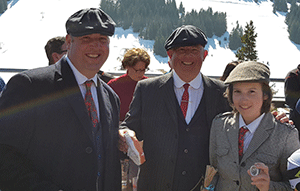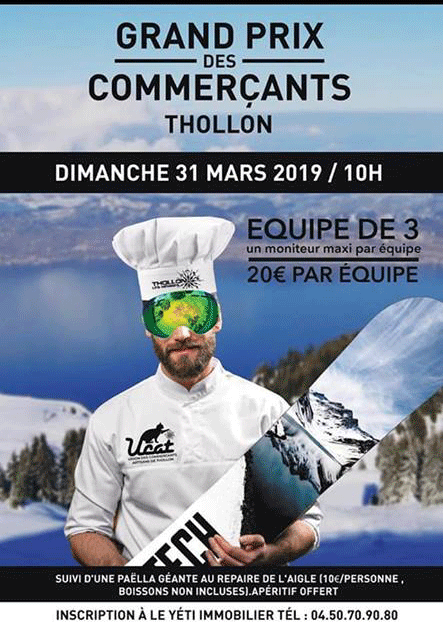 Below the race winners Garage des Memises and the British "second place?" Team Meda Sport (Ketts Taira Andy) we understand that we might have translated "Les Perdants" incorrectly..... Great trophy, medals, cheese and chocolates were all appreciated as was the great atmosphere and the paella served for lunch. Thanks to the organisers and the many supporters for such a fun event. The race had a unique compulsory half way stop with a glass of wine or juice being consumed before continuing to the finish.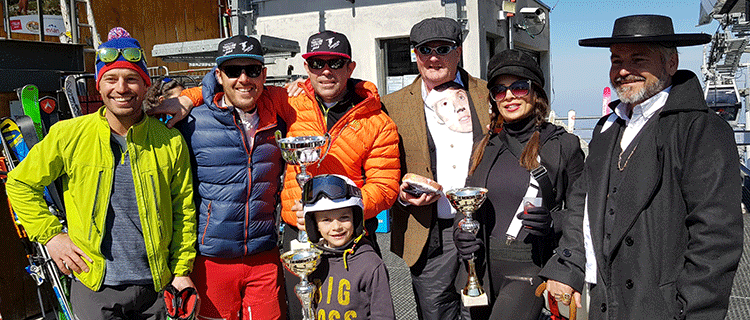 Results correctly reported in the le dauphine below on the 3rd April 2019 together with a picture of the Peaky Blinder racers.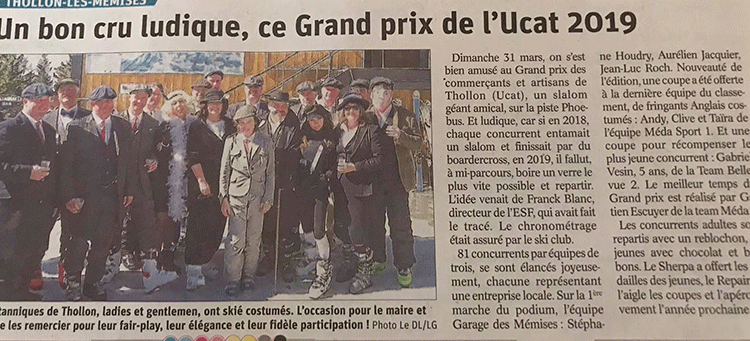 More pictures and video below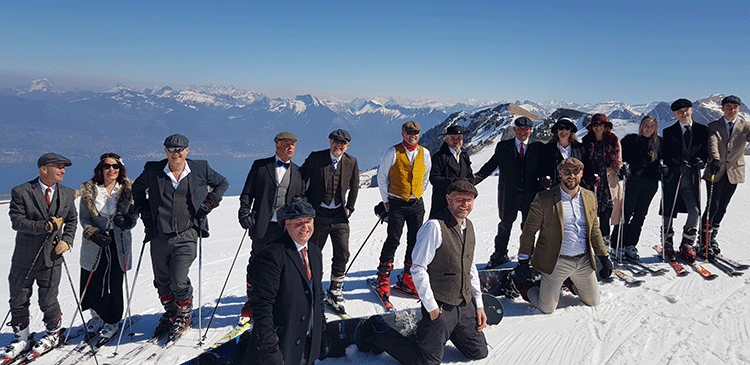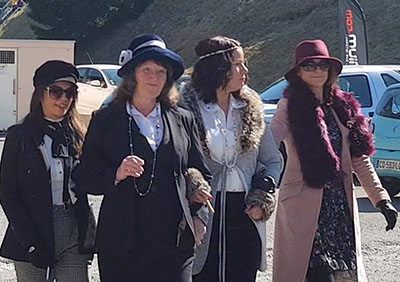 Peaky on the slopes PeakyYouTube video
Romantic Thollon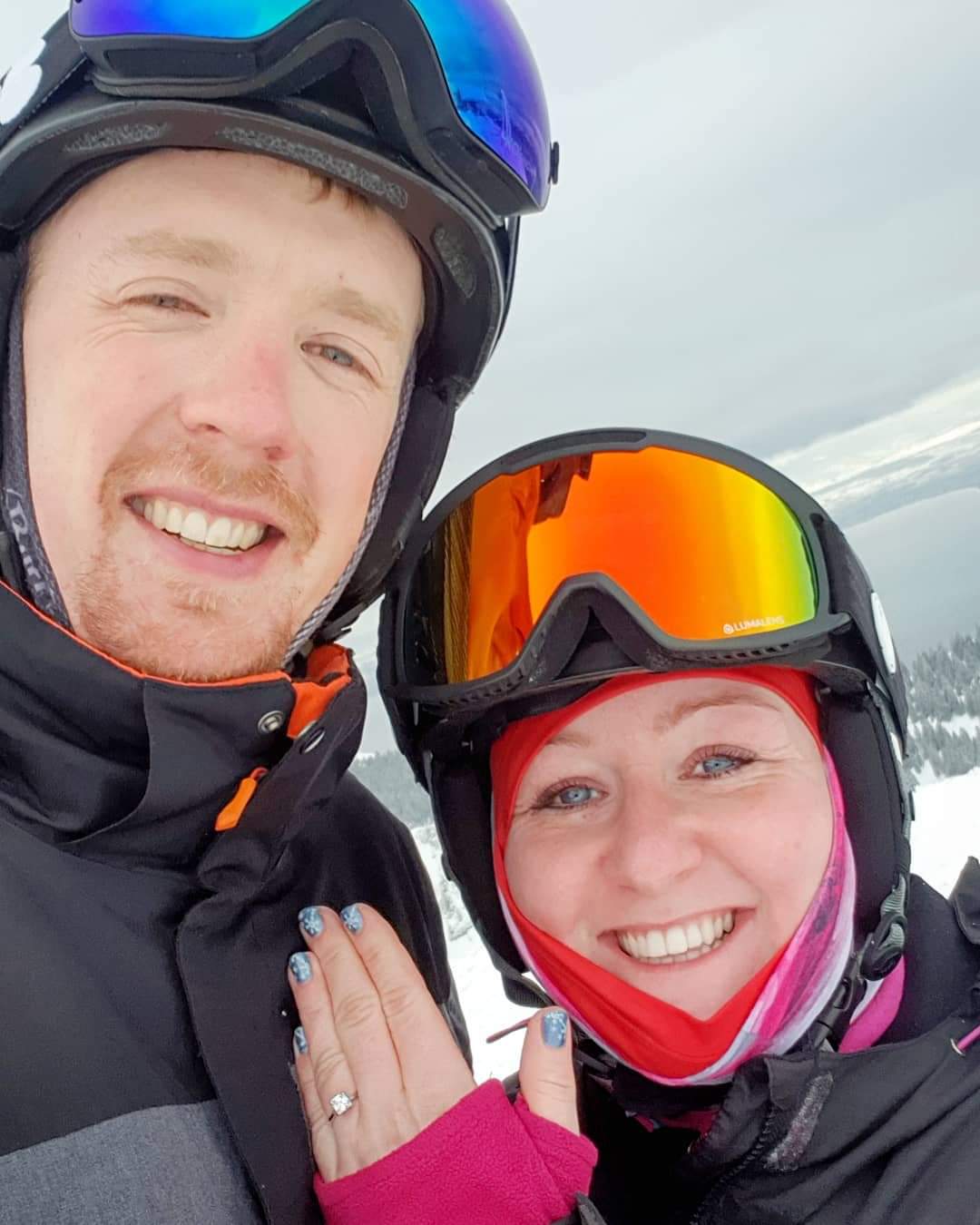 We all love the view from the top of the mountain, and what better place to propose marriage.
Regular visitor Ross proposed, and Nicola said yes.
The British half term, Monday 18th February 2019 brought many visitors to Thollon. A great sunny week with fun had by all.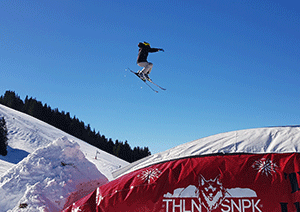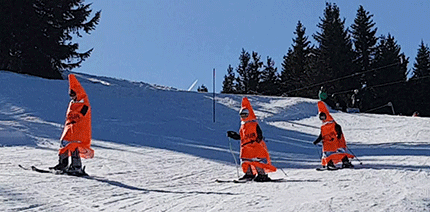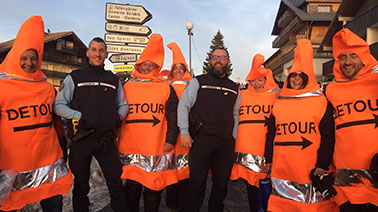 The Tourist Office will be running many events during the holiday season. Thollon les Mémises Tourisme Facebook publishes details. The "Agenda of the week" Programme d'animations. Torch light descent, table tennis. Karaoke and much more.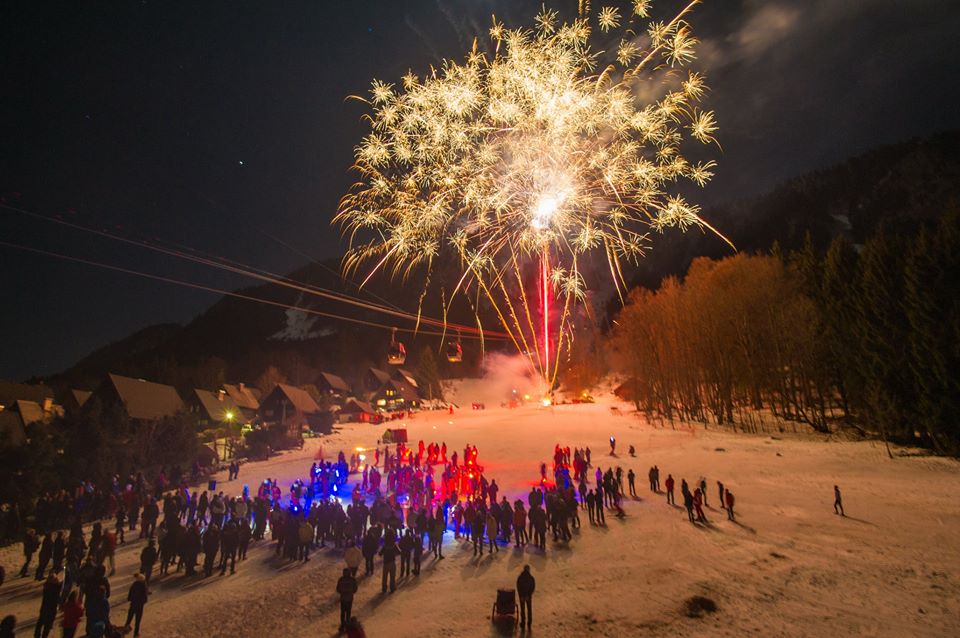 Great news, Thollon and Bernex have signed an agreement making available a ski pass for both resorts for the 2017/18 Season The season pass is for both resorts and 3 visits to the Bernex Ice rink. There is a also a new web site Les Montagnes D' Evian promoting the joint venture, and the various options. The pass is available to buy on line. We look forward to further initiatives.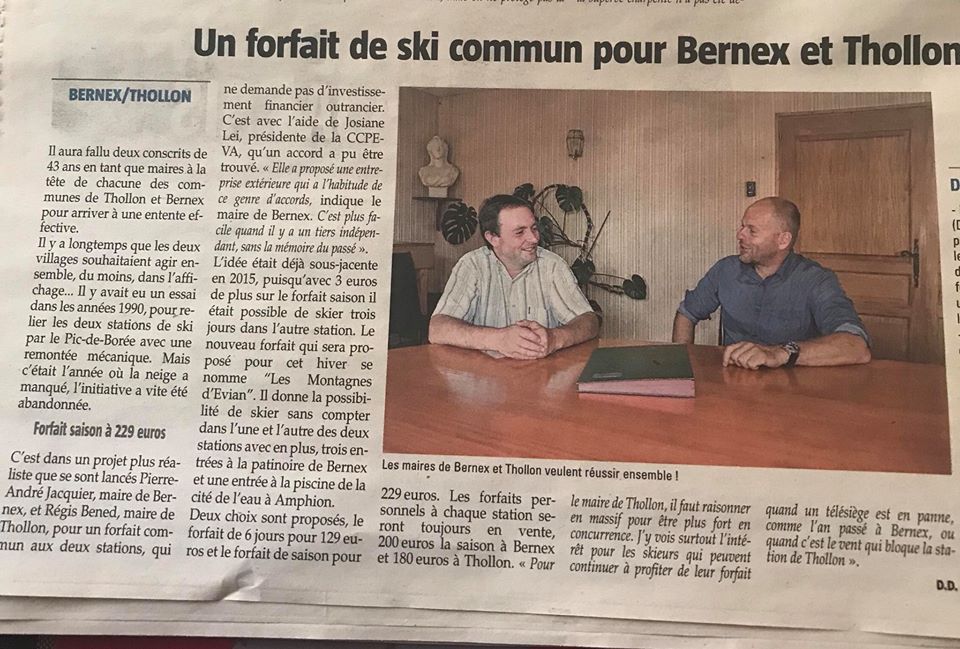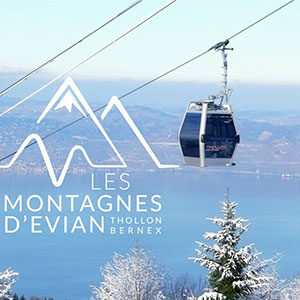 A picture reminder of last Winters fun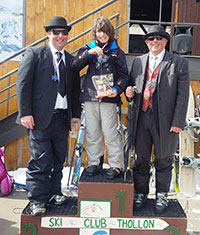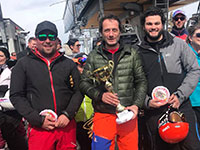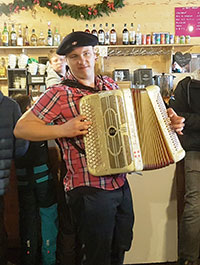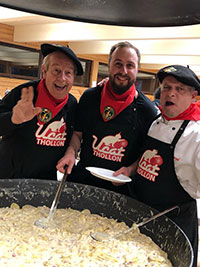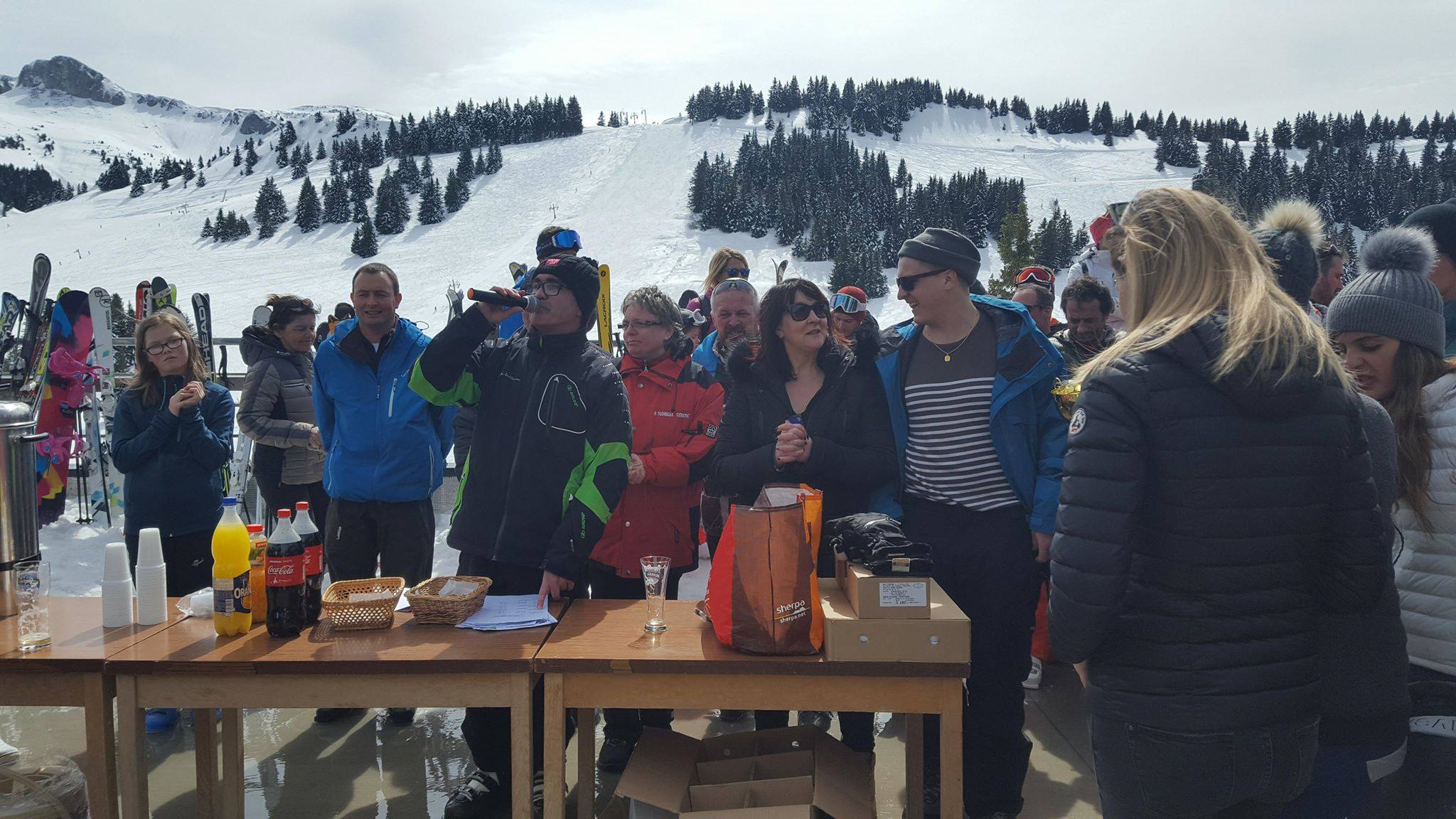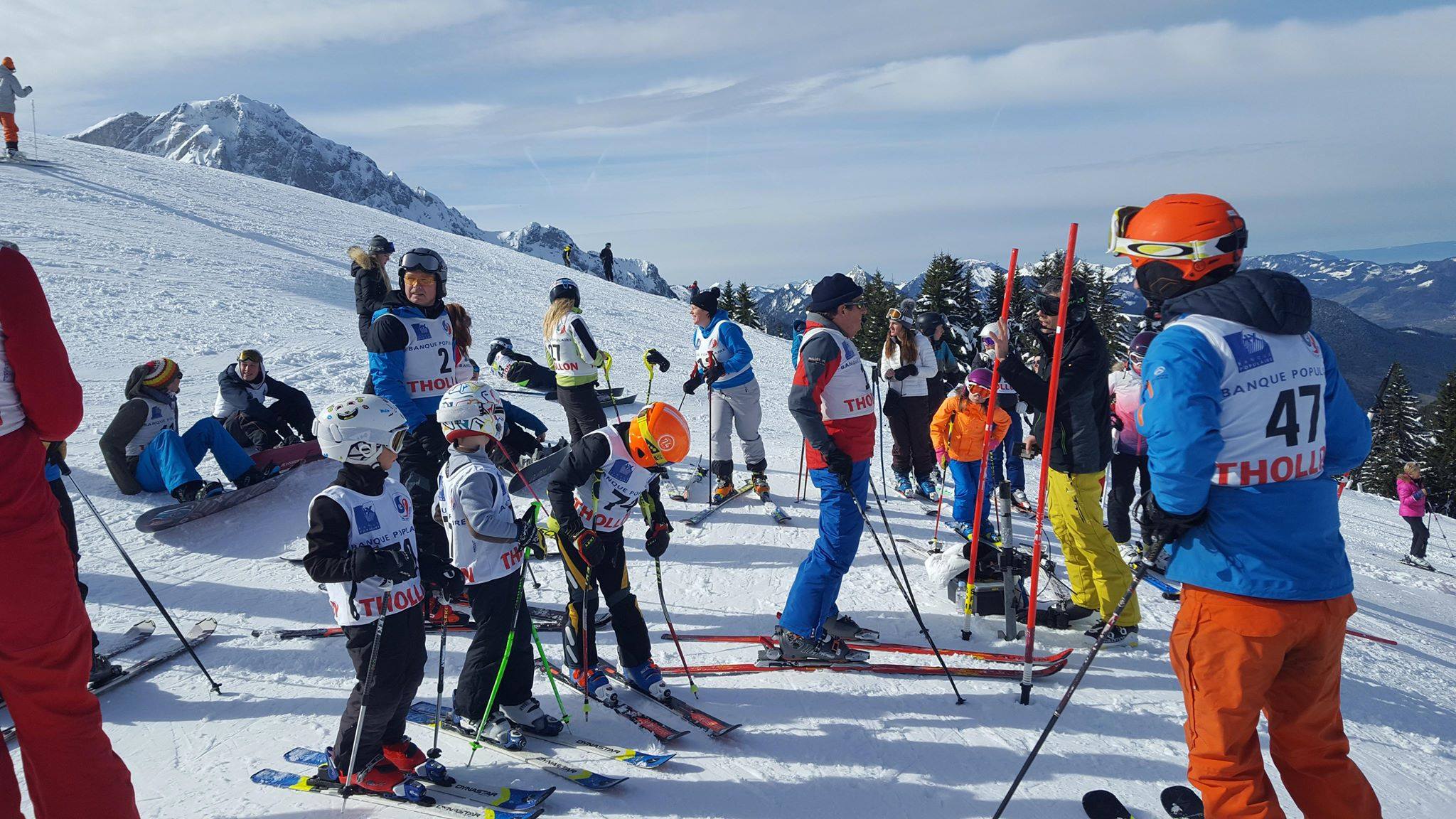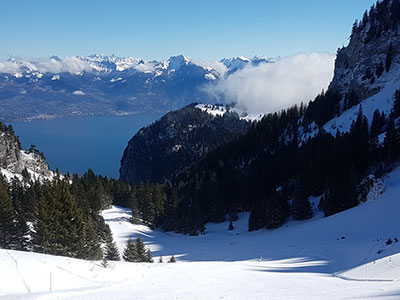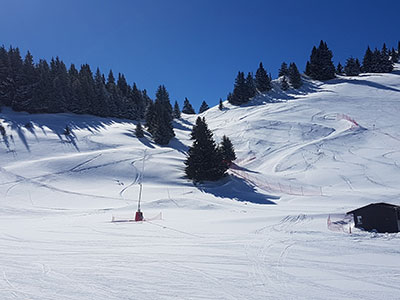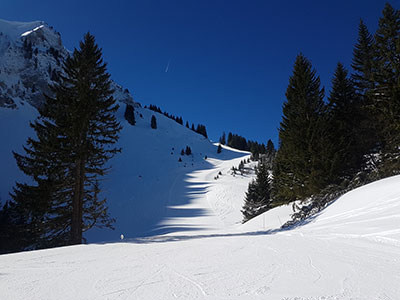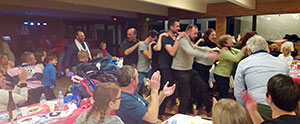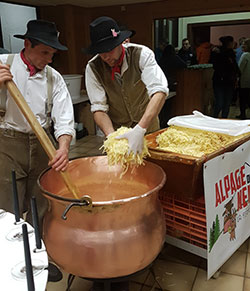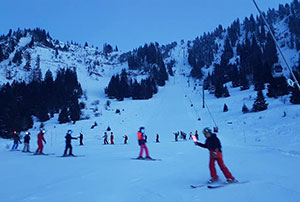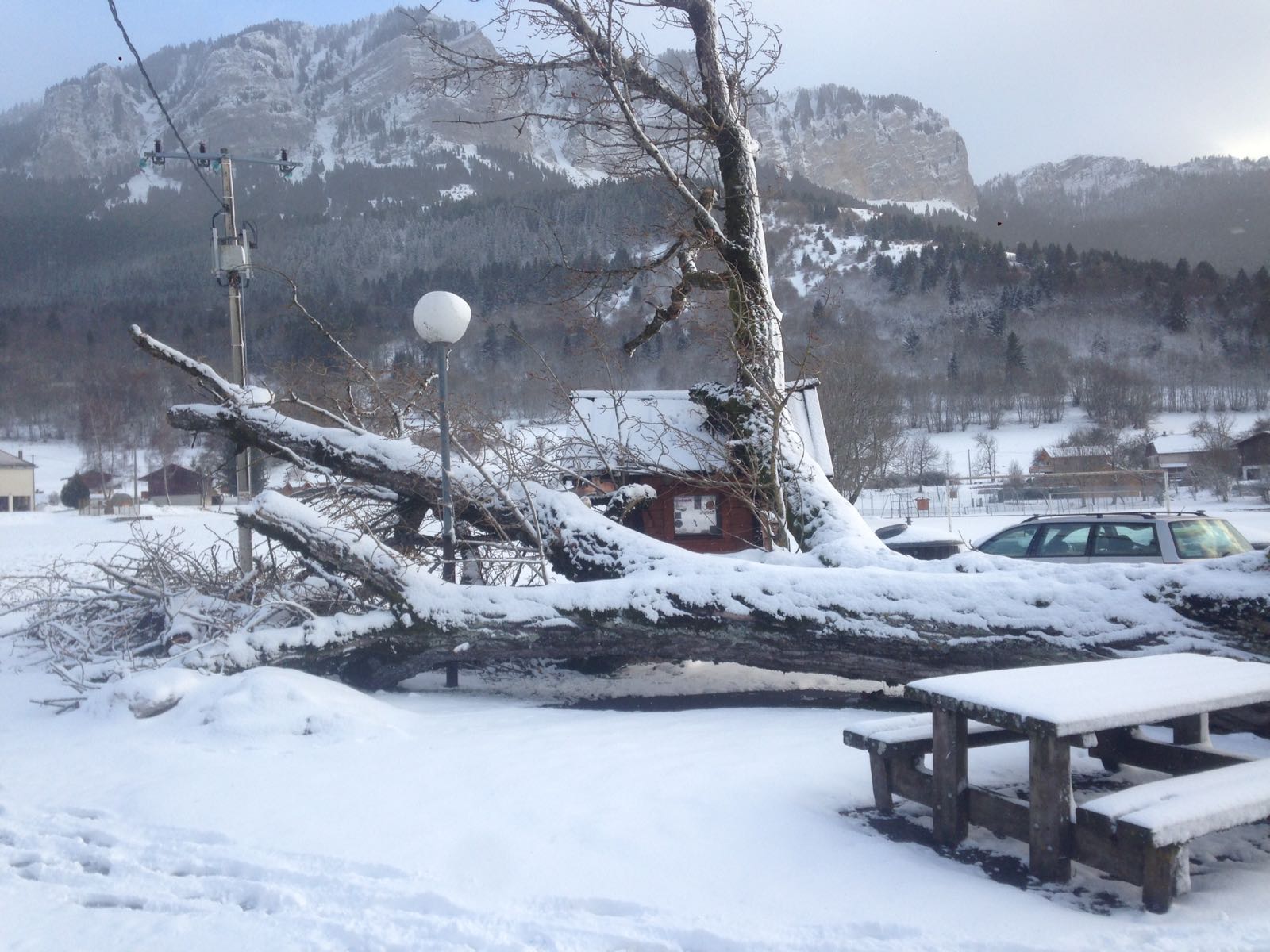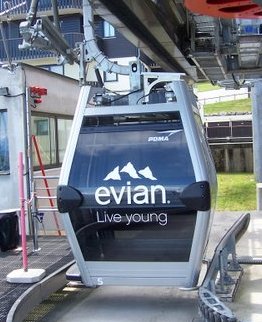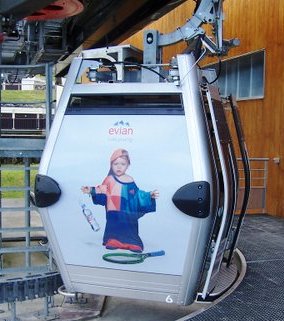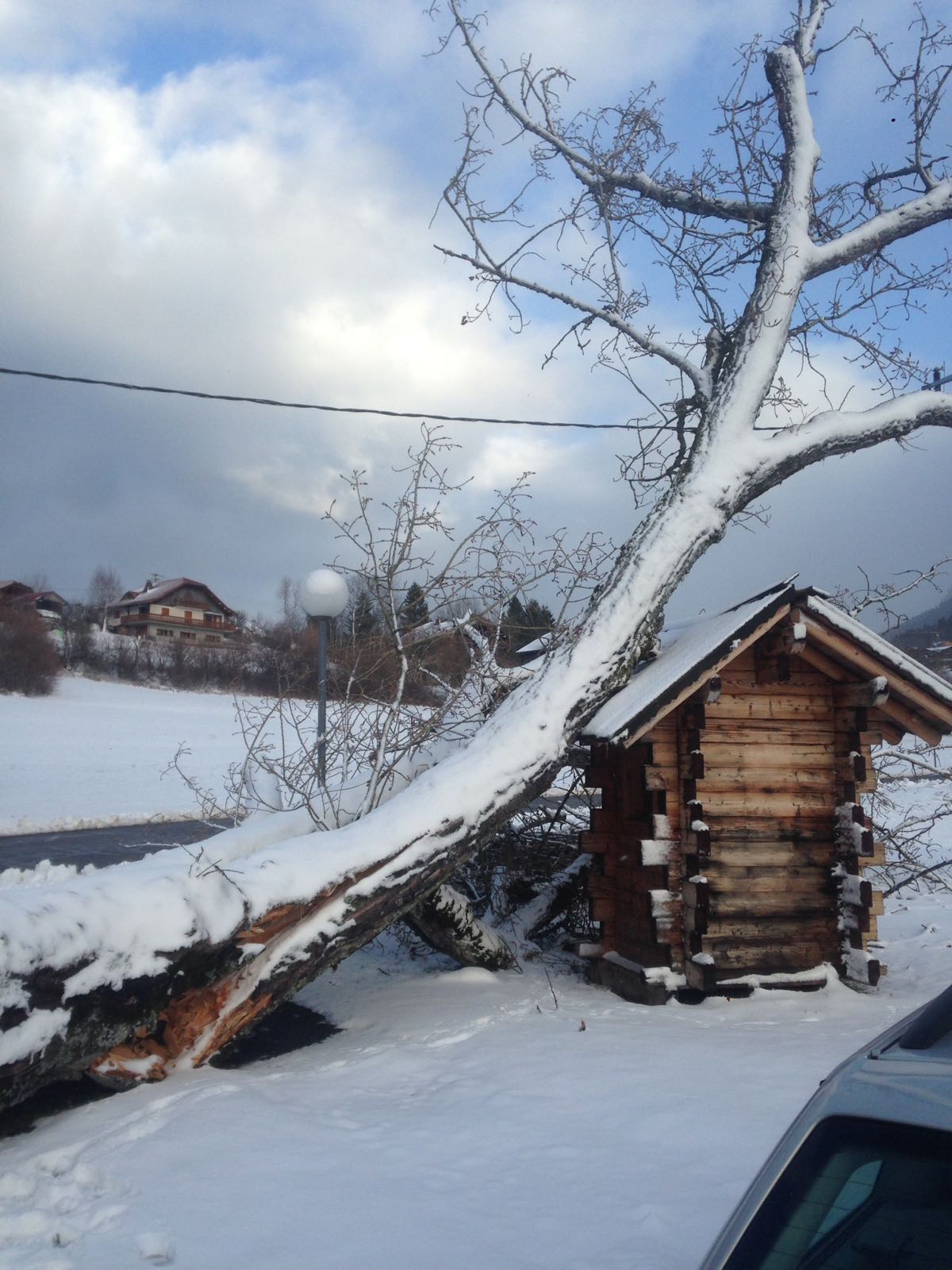 More on our News and Blog page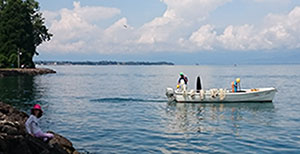 The website invites contributions and constructive comments: This email address is being protected from spambots. You need JavaScript enabled to view it.
Do check in regularly as new articles are added.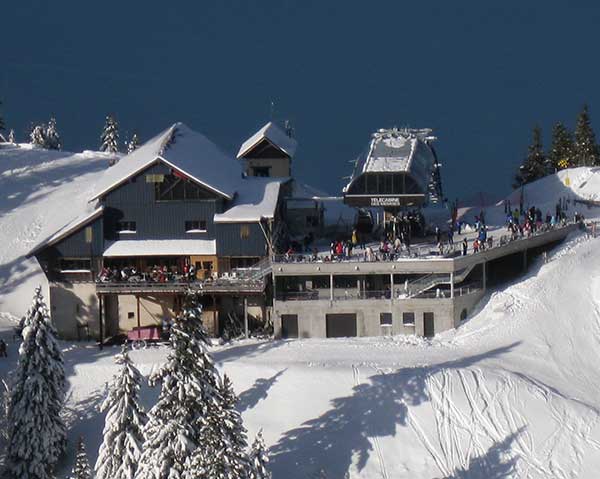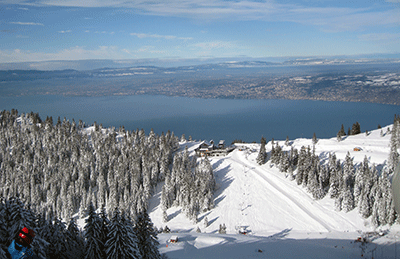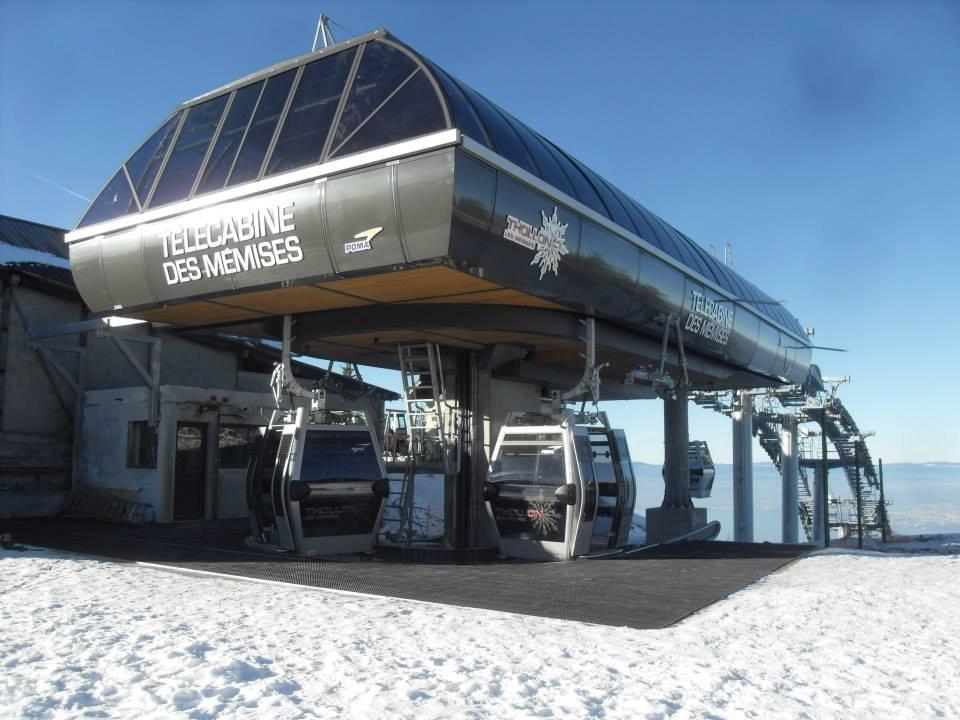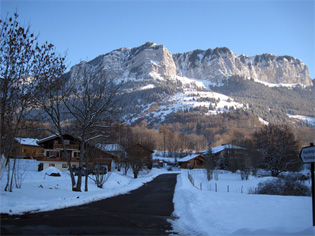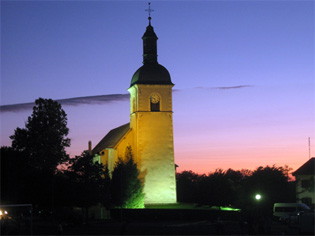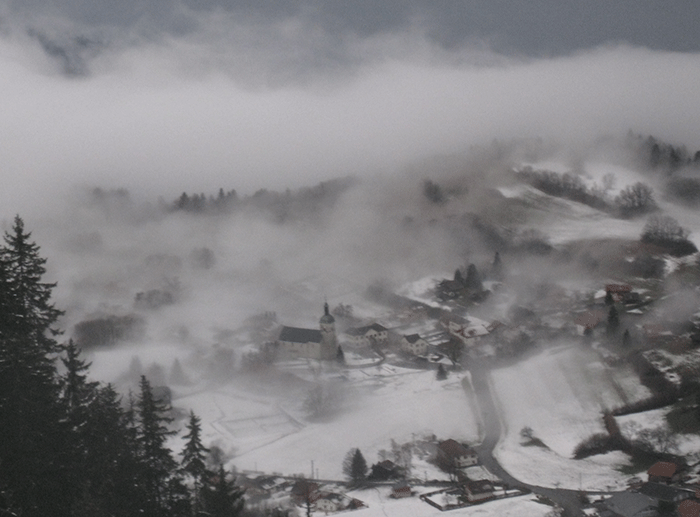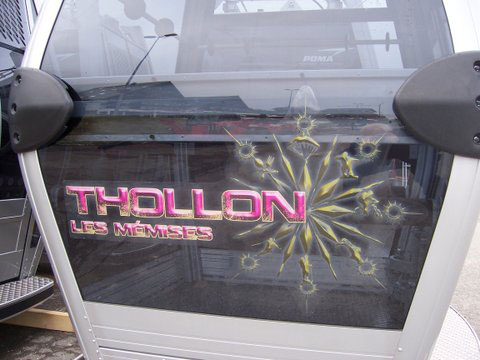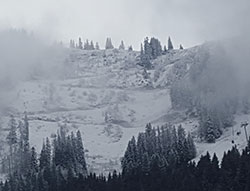 Map of suggested visits and Ski resorts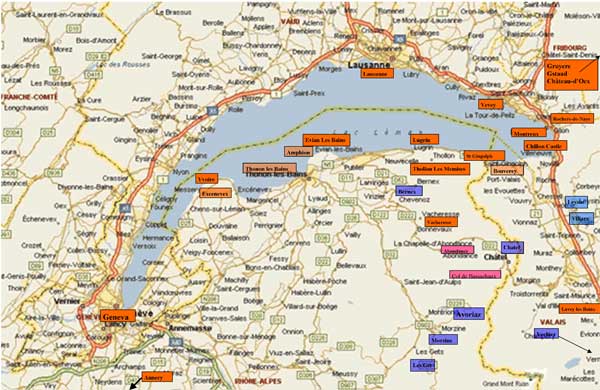 The site does not intend to duplicate the information that is available on local websites such as www.thollonlesmemises.com but to bring together information and welcomes suggestions and contributions,
To make a contribution please use our contact page.
Photographs that show a particular aspect of Thollon and the area are appreciated.
As the site is an exchange of information no liability for the correctness is accepted and visitors should verify for themselves if in doubt the information provided by contributors.
This is a UK based web site, maintained and governed in the UK.
All content copyright thollon.org